Kyoto high school band tours Taipei before Double Ten
The visiting Kyoto Tachibana Senior High School Band, which is scheduled to perform at Taiwan's Double Ten National Day celebration on Monday, played a spontaneous concert at the Grand Hotel in Taipei yesterday.
The 88 students and five teachers from the school arrived in Taiwan on Wednesday for a six-day visit, and are scheduled to depart after the performance on Monday.
The band gave a five-minute performance in one of the hotel's halls shortly after 9am, as a crowd rushed to take photographs.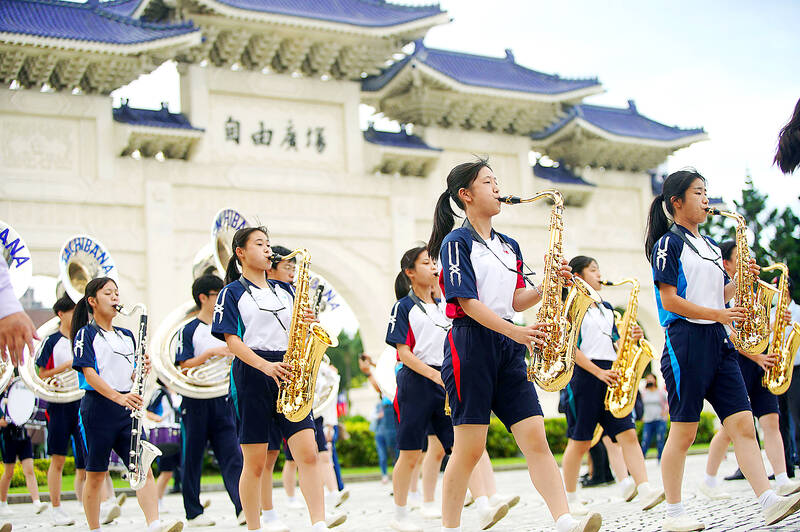 The Kyoto Tachibana Senior High School Band performs at Liberty Square in Taipei yesterday.
Photo: CNA
The band also played at Liberty Square later in the day.
The students also attended an event at Taipei First Girls' High School, where they were presented with pearl milk tea and vintage cakes sent by President Tsai Ing-wen (蔡英文) in her capacity as the chairwoman of the General Association of Chinese Culture (GACC), association Secretary-General Lee Hou-ching (李厚慶) said yesterday.
Tsai also sent a card that said: "Welcome to Taiwan! I look forward to your performances, and I believe the Double Ten National Day will be even more glorious because of your presence."
The Tachibana school band, nicknamed the "Orange Devils" because of their orange uniforms, are to perform during a massive ceremony to mark Taiwan's National Day, Lee said in a statement on Wednesday.
The band was invited by the National Day Preparation Committee and the GACC.
Although travel between Taiwan and Japan had been restricted for more than two years during the COVID-19 pandemic, donations of masks from Taiwan and vaccines from Japan enhanced the countries' friendship, Lee said.
This is the first time a large foreign group has been invited to participate in the National Day event, Lee said.
The band is scheduled on Sunday to have exchanges with three Taiwanese school bands that are to perform on Monday, Lee added.
The band's videos often receive millions of views on YouTube, with four having received more than 10 million views each.
Comments will be moderated. Keep comments relevant to the article. Remarks containing abusive and obscene language, personal attacks of any kind or promotion will be removed and the user banned. Final decision will be at the discretion of the Taipei Times.