Chinese readying for war would be obvious: analyst
'RELIABLE INDICATORS': The former CIA analyst said activity preceding a potential invasion would include production of munitions, a mobilization and a blood drive
There would be clear indications if Beijing were planning to attack Taiwan due to the scale of the preparations required, most of which have not yet been observed, a former CIA analyst said on Monday.
As cross-strait tensions rise, US analysts have been floating a few impending dates for a potential Chinese invasion of Taiwan, ranging from 2027 to as soon as Taiwan's 2024 presidential election.
However, John Culver, a former analyst and manager of East Asian security, economic and foreign policy at the CIA, said that a full Chinese mobilization would leave "reliable indications" that conflict was coming.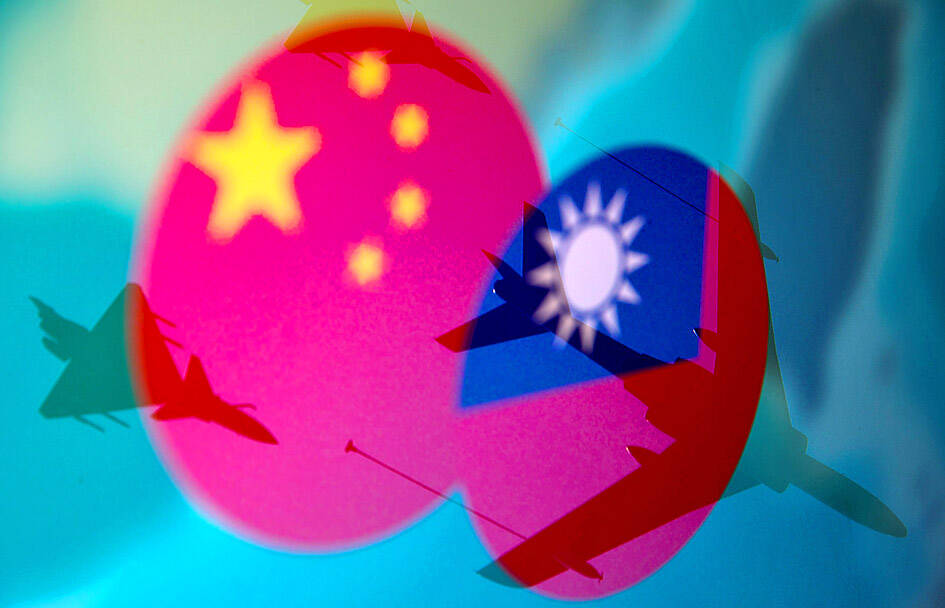 The national flags of Taiwan and China are displayed alongside military airplanes in an illustration created on April 9 last year.
Photo: Reuters
Preparations "almost certainly would not be subtle, at least to the US intelligence community, and probably not to Taiwan and other Western observers," Culver wrote for the Carnegie Endowment for International Peace think tank.
At least a year before an invasion, production of key munitions would need to ramp up, considering their widespread use in modern warfare, Culver said.
Beijing would also take "visible steps" to protect its economy and military beyond its current limited efforts to achieve self-sufficiency and counter US financial pressure, he wrote.
Shorter-term measures would include stronger cross-border capital controls, rapid repatriation of assets abroad, stockpiling supplies, suspending key exports and more, he said.
If a 2024 attack were planned, Beijing would already be psychologically preparing its citizens for austerity and casualties, but no such measures have been observed, Culver said.
"It seems plausible, therefore, that if the American intelligence community saw some of that happening, they would right now be releasing that information publicly, just as they did almost four months before Russia invaded Ukraine. They would not just be leaking it to one news outlet," he wrote.
Within the Chinese People's Liberation Army, a comprehensive stop loss would be implemented six to 12 months in advance of a conflict, followed by a halt to regular training to perform maintenance and expand capacity for resupply and repairs, he said.
Preparations beyond those seen in exercises would intensify in the Eastern and Southern Theater Commands opposite Taiwan, including public blood drives, while troops in other contested regions would need bolstering for fears of chain-reaction warfare, he said.
Then, three to four months before a conflict, a national mobilization would be observed, Culver said.
"These would all be public actions, reported in Chinese national and provincial media and quickly detected by Western government and private analysts," Culver added.
However, the Chinese Communist Party understands that an invasion would likely be lengthy and damaging, shifting the basis for its legitimacy from economic growth to "near-exclusive focus on nationalism," he wrote.
A full-scale invasion is also not a given, as Beijing might choose a combination of economic, legal, informational, military and other pressures to force Taiwan to the negotiating table, he said.
Yet if China "decides to fight a war of choice over Taiwan, strategic surprise would be a casualty of the sheer scale of the undertaking," Culver wrote.
"Any invasion of Taiwan will not be secret for months prior to Beijing's initiation of hostilities. It would be a national, all-of-regime undertaking for a war potentially lasting years," he added.
Comments will be moderated. Keep comments relevant to the article. Remarks containing abusive and obscene language, personal attacks of any kind or promotion will be removed and the user banned. Final decision will be at the discretion of the Taipei Times.