Retired musician launches special kind of metal band
A Hsinchu County-based retired conductor has found a new type of band to lead, to the growing delight of picture-taking visitors.
Chen Jung-sheng (陳榮昇), founder of the Taoyuan Symphonic Band, returned to Jhubei City's (竹北) Aikou Borough (隘口) after passing the baton on to his daughter two years ago.
Passionate about beautifying his surroundings, Chen created an entire band of metal stick figures on an embankment across the street from his house on Tiding Street.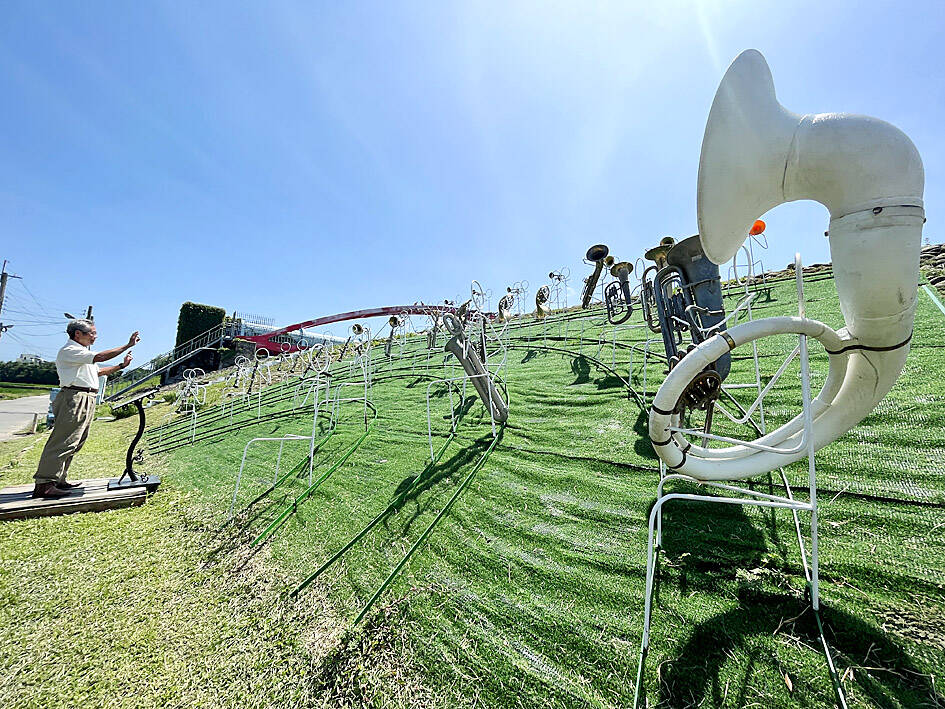 Former Taoyuan Symphonic Band conductor Chen Jung-sheng "conducts" a band of metal stick figure musicians in Hsinchu County's Jhubei City on Sept. 23.
Photo: Liao Hsueh-ju, Taipei Times
Nestled between two staircases painted like piano keys with a water line stretching across the river nearby, more than 40 figures sit at attention, "watching" the conductor's stand.
Each is holding a real wind instrument, flutes and clarinets populating the front with French horns and saxophones behind, tubas fanning the side and trumpets bringing up the rear.
The striking ensemble catches the attention of many passersby, including county councilors who have taken photographs posing as its enthusiastic conductor.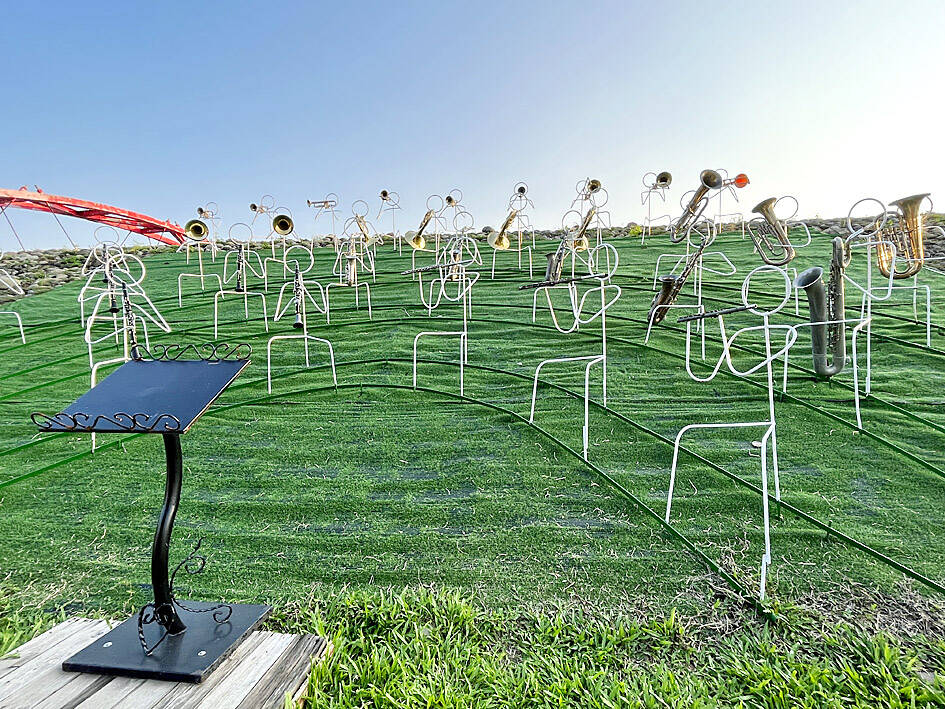 A band of metal stick figures made by Taoyuan Symphonic Band founder and former conductor Chen Jung-sheng is pictured in Hsinchu County's Jhubei City on Sept. 23.
Photo: Liao Hsueh-ju, Taipei Times
Chen received many honors in his nearly 20 years at the Taoyuan Symphonic Band, including an invitation to conduct ensembles at a presidential inauguration and the National Indigenous Games, as well as a 1,000-member band for the opening ceremony of the first National Games.
His long career took him all over Taiwan and the world, including Malaysia, China and South Korea, but retirement has led him back to his Jhubei roots.
The endeavor began as a humble effort to tidy up his overgrown home and the opposite embankment with the help of his brothers.
Although the view from the top of the meandering river's embankment on the setting sun was stunning, Chen felt there was something missing.
A request on Facebook for unwanted instruments met with an enthusiastic response from friends and local bands.
For the figures, he demonstrated the poses for a hired metalworker to replicate, then arranged them in familiar arcs.
Chen invited passersby to sit beneath the cherry trees in his yard and enjoy the scenery, which he hopes to soon expand to include a percussion section and perhaps real music.
Comments will be moderated. Keep comments relevant to the article. Remarks containing abusive and obscene language, personal attacks of any kind or promotion will be removed and the user banned. Final decision will be at the discretion of the Taipei Times.