Jab rule for outbound travelers dropped
The Tourism Bureau on Friday scrapped a requirement that members of outbound tour groups receive three shots of COVID-19 vaccines before they can travel abroad, following a backlash from industry representatives.
The requirement was included in the initial version of the bureau's updated guidelines that were published on Friday afternoon, which sparked an outcry from travel agencies.
The bureau later removed the requirement following talks with the Travel Agent Association.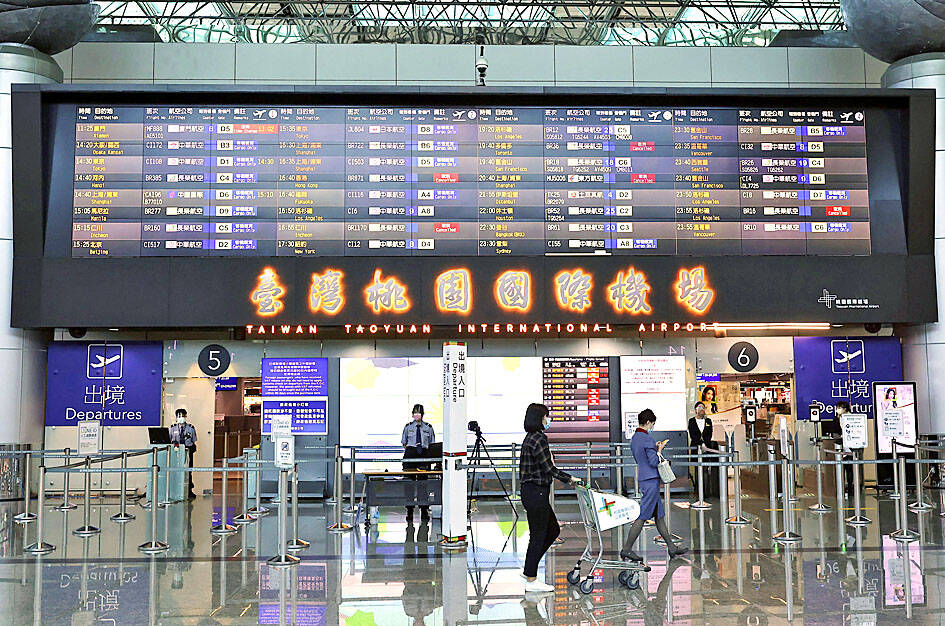 People walk past the departure gate at Taiwan Taoyuan International Airport on Aug. 4.
Photo: Ann Wang, Reuters
The decision factored in the opinions of travel agencies and the nation's wide vaccination coverage rate, the bureau said, adding that the plan has been approved by the Central Epidemic Command Center (CECC).
With the update, Taiwan no longer has any requirements on the vaccination status of outbound travelers, who should heed the entry requirements of their destination countries with regard to COVID-19 vaccination status, said Centers for Disease Control Deputy Director-General Chuang Jen-hsiang (莊人祥), who is the CECC's spokesperson.
The guidelines are to be issued to travel agencies nationwide today, ahead of the planned lifting of a ban on inbound and outbound tour groups on Thursday next week, the bureau said.
The bureau also elaborated on its new guidelines for group travel that are to take effect on the same day, saying that members of inbound tour groups may not sit at the same table with local diners at restaurants.
The measure aims to protect tourists, it said.
Members of tour groups must wear masks at all times, expect when eating or drinking, the bureau added.
Taiwan is also on Thursday next week to end mandatory quarantine for arrivals as part of its new "0+ 7" policy that would replace the "3+4" policy, which requires arrivals to quarantine for three days and observe four days of "self-initiated epidemic prevention."
The new policy would require arrivals to observe seven days of "self-initiated epidemic prevention," during which independent travelers would be subject to the rules that apply to tour groups: They can go outside and dine alone, but cannot sit with people they do not know, on condition that they test negative for COVID-19 within the previous two days, the CECC has said.
Each tour group member would be given four rapid test kits upon arrival, and be required to take one test at the airport and the others every two days during their stay.
They can share a room with their travel partners, but cannot change rooms or share rooms with other tour members during their stay in Taiwan.
If a tour group member contracts COVID-19 while in Taiwan, they would be taken to a government-run quarantine facility at their expense, while other members of the tour group would be allowed continue with their itinerary.
Comments will be moderated. Keep comments relevant to the article. Remarks containing abusive and obscene language, personal attacks of any kind or promotion will be removed and the user banned. Final decision will be at the discretion of the Taipei Times.