Low birthrate might curb recruitment in military, report says
FOUR-MONTH TRAINING: The military would this year only recruit 118,000 men aged 18 or older, a report released by the Legislative Yuan showed
A significantly declining adult population might cause recruitment problems for the military, a government report said on Friday, citing forecasts based on the country's birthrate, which has been declining over the past few years.
The number of registered births in Taiwan has dropped from 196,627 in 2011 to a record low of 153,820 last year, the report said, citing data from the Ministry of the Interior.
The decline is expected to continue over the next few years, posing a problem for the recruitment of military service members, according to the report, which was released by the Legislative Yuan's Budget Center.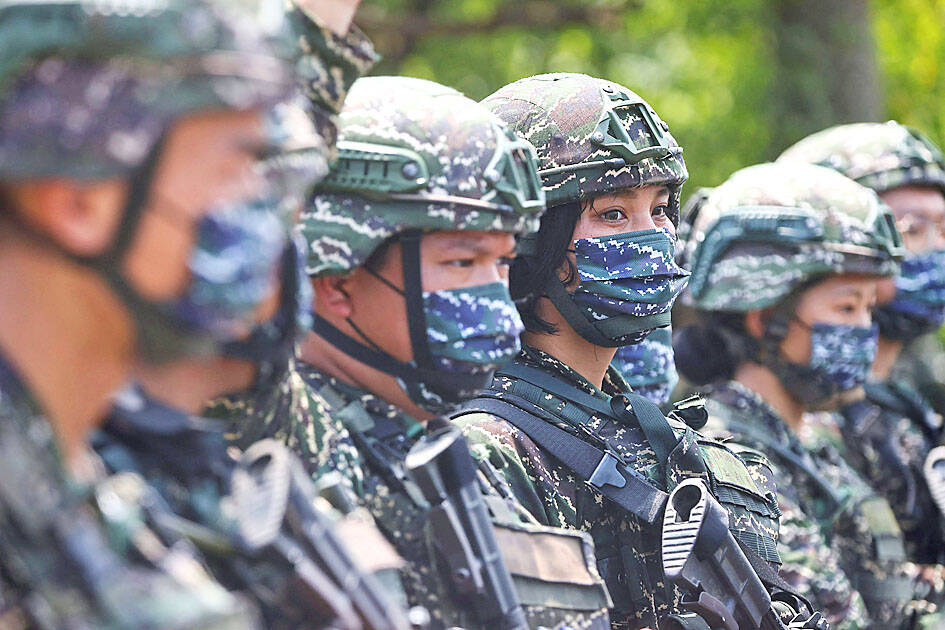 Soldiers line up as part of Taiwan's annual Han Kuang exercise in New Taipei City on July 27.
Photo: Ann Wang, Reuters
The problem would affect Taiwan's hybrid military recruitment system, which mandates the conscription of male citizens aged 18 or older for at least four months of training and relies largely on voluntary enlistment by citizens of both sexes, the report said.
The number of new conscripts would this year be 118,000 or less, the lowest number in nearly 10 years, it said.
From 2012 to 2016, the number of men of military conscription age fell to an average of 168,000 per year, dropping further to 138,000 in 2017, it said.
With the birthrate unlikely to recover in the next few years, the report said the problem would likely get worse.
Taiwan in 2013 implemented a voluntary military enlistment system and revised its conscription regulations, which had been in place since 1945.
The latest data showed that the military comprises 180,000 people, 15 percent of whom were women, and voluntary enlistments accounted for 84.98 percent.
Comments will be moderated. Keep comments relevant to the article. Remarks containing abusive and obscene language, personal attacks of any kind or promotion will be removed and the user banned. Final decision will be at the discretion of the Taipei Times.