Institute sets threat criteria from invasive plants
Taiwan Agricultural Chemicals and Toxic Substances Research Institute has established new criteria for designating invasive plants that pose a high level of threat to the environment.
The institute is responsible for helping customs officials identify seeds included in imported materials, an essential task in the nation's effort to stop invasive plants at the border, institute Director-General Chang Ruey-jang (張瑞璋) told a news conference in Taipei on Wednesday.
Seeds that do not originate from indigenous plants and are not approved for importation must be destroyed lest invasive plants spread in the country, he said, adding that the eradication of bitter vines alone costs taxpayers millions of new Taiwan dollars annually.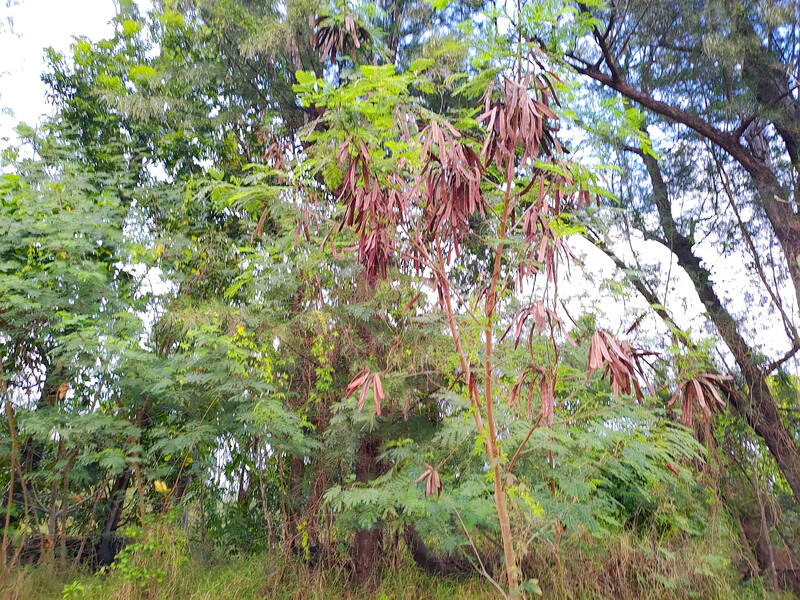 A river tamarind tree is pictured in New Taipei City on May 15. The tree is an invasive species that has taken over many mountainous areas of central and southern Taiwan.
Photo: Lee Meng-fa, Taipei Times
The introduction of muhly grass by agritourism farms in Nantou County last year — which briefly became a selfie hotspot — almost triggered a full-blown environmental catastrophe in Taiwan proper, he said.
The institute is also focused on containing the spread of smooth cordgrass, which has laid claim to swathes of the Kinmen archipelago and the coastline of Taichung, he said.
As the best way to prevent the spread of invasive species is to prevent them from getting into the country, a standard for assessing the threat level needed to be established, institute assistant researcher Wang Chih-ping (王智屏) said.
The institute has thus devised an assessment protocol that assigns a numerical value for the threat posed by a plant species based on its potential for wilding, propagation, environmental impact and the feasibility of countermeasures, she said.
Wilding potential is linked to a plant's lifecycle, prolificity and adaptability to the environment, while propagation relates to its ability to spread from an area, resilience to insects and other limiting factors, she said.
Impact analysis is concerned with a plant's negative effects on biodiversity, economic activity and public health, while the feasibility of containment weighs the cost and effectiveness of mechanical, chemical and biological countermeasures, she said.
Nearly 40 percent of the samples found at customs included seeds of high-threat species, the institute said, adding that Taiwan's low-to-medium altitude regions are rife with invasive plants.
Comments will be moderated. Keep comments relevant to the article. Remarks containing abusive and obscene language, personal attacks of any kind or promotion will be removed and the user banned. Final decision will be at the discretion of the Taipei Times.