Jeffrey Sachs urges dialogue with Beijing
Economist Jeffrey Sachs on Monday urged Taiwan and China to commit to dialogue to find a peaceful resolution amid rising cross-strait tensions.
"We need dialogue urgently, because if it's only taking the worst of the other side and that is what's happening right now, we will get into an escalation cycle ... we are in an escalation cycle that's very dangerous," Sachs said via videoconference.
He was speaking at a Tang Prize Forum at National Cheng Kung University in Tainan. Sachs has won this year's Tang Prize for Sustainable Development.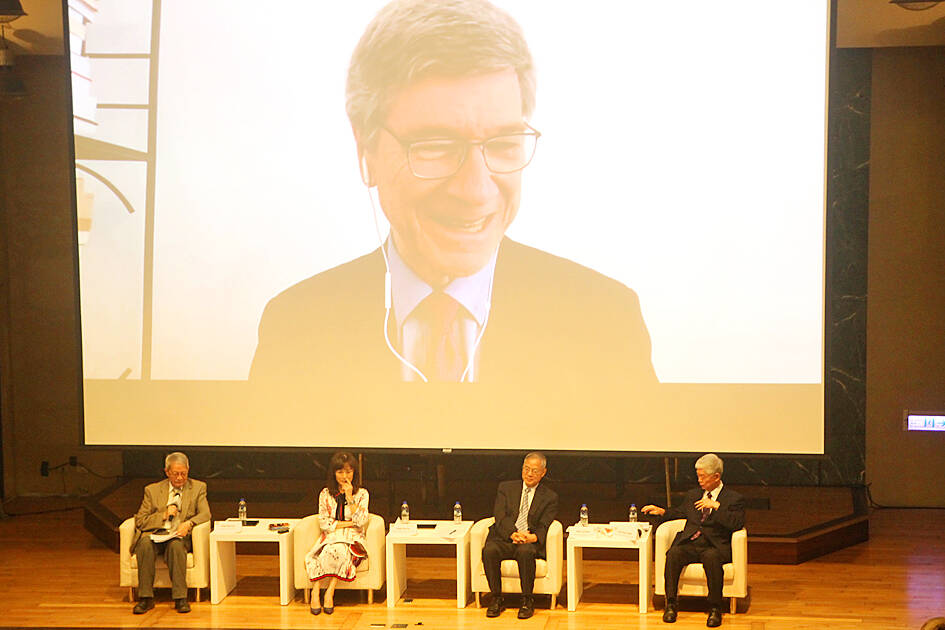 Economist Jeffrey Sachs speaks via videoconference at a Tang Prize Forum at National Cheng Kung University in Tainan on Monday.
Photo: CNA
Taiwanese academics asked Sachs about the relationship between Taiwan, China and the US, particularly following US House of Representatives Speaker Nancy Pelosi's visit to Taipei last month. Beijing launched live-fire drills in the waters around Taiwan immediately after Pelosi's departure.
Sachs said he believes dialogue is the best option, as it would allow all parties to understand each other's respective position, interests and security needs.
"I hope I'm not naive in believing that there is an absolutely peaceful and mutually constructive approach, that is my strong view. And it's not only my hope, it's also my understanding, but we're not naturally gravitating towards that right now because there is very little trust and very little discussion," he said.
It is important for all sides to aim at cooperation instead of taking provocative or dangerous actions, because the economic cost of the loss of trust are extremely high, Sachs said, citing the benefits of having an integrated power grid in Northeast Asia.
"There's no reason that Taiwan cannot power itself with Gobi Desert renewable energy, because there could be a regional grid," he said. "But this requires trust, this requires a sense of security and national security, and that trust doesn't exist right now."
Referring to the distance of about 250km from Xiamen, China, to Taichung, he said: "That's a pretty routine submarine cable, so one could, if there were a high level of trust, connect the mainland and Taiwan power grid, and make all sorts of solutions that don't exist right now."
Sachs is recognized for his bold and effective strategies to address complex challenges, such as extreme poverty, climate change, international debt and financial crises, national economic reforms, and the control of pandemics and epidemics.
To address issues related to sustainable development, Sachs combined the fields of economics, public health, equity and sustainability to pioneer a multidisciplinary approach, transforming sustainable development into an integrated field of study and practice, the Tang Prize Foundation has said.
Comments will be moderated. Keep comments relevant to the article. Remarks containing abusive and obscene language, personal attacks of any kind or promotion will be removed and the user banned. Final decision will be at the discretion of the Taipei Times.