Clarify Taiwan support, Pompeo urges
PLEA TO OTHER NATIONS: The former US secretary of state also reiterated his call for formal recognition of Taiwan, as it 'possesses all the eidos of sovereignity'
Countries should be clear in their support for Taiwan and deepen economic ties to escape Chinese coercion, former US secretary of state Mike Pompeo said in an interview with the Taipei Times on Tuesday.
The former top US diplomat, who is on his second visit to Taiwan this year after traveling to Taipei in March, is in Kaohsiung to meet with business leaders at the Global Taiwan Business Forum.
Speaking on the sidelines of the event, Pompeo stressed economic integration in tandem with defense as key to maintaining Taiwan's extant independence — a reality that he called "patently obvious."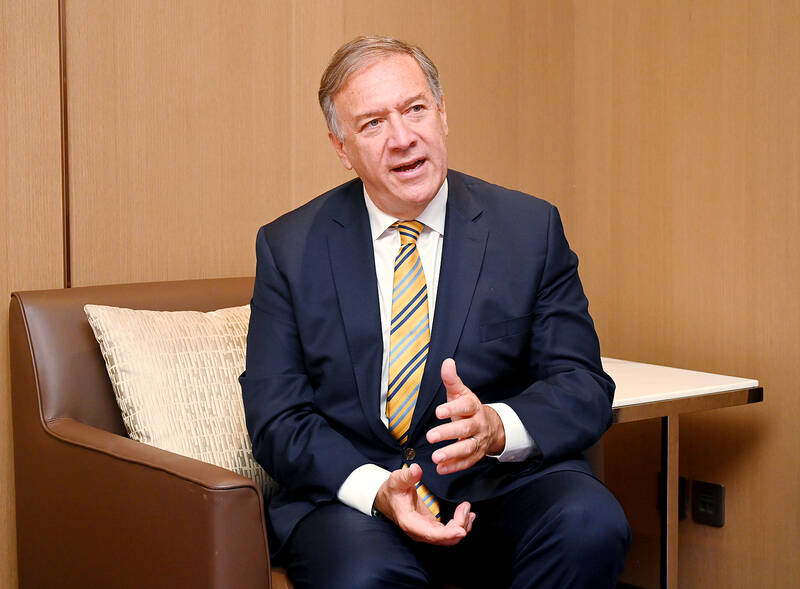 Former US secretary of state Mike Pompeo speaks with the 'Liberty Times' on Tuesday at the Kaohsiung Marriott Hotel.
Photo: Tien Yu-hua, Liberty Times
"The Chinese Communist Party [CCP] uses as its primary instrument of power its economic might," he said. "Those of us who believe in basic rule of law should unite to prevent them from picking us off one after the other."
Beijing is sophisticated in its strategy to single out its competitors, for instance by refusing to buy Australian wine, restricting travel to Pacific islands or banning Taiwanese products, he said.
The answer is for democracies to deepen trade with each other, denying China its economic leverage, he said.
Former US secretary of state Mike Pompeo speaks with the 'Liberty Times' on Tuesday at the Kaohsiung Marriott Hotel.
Photo: Yang Yi-fu, Liberty Times.
At the same time, businesses are starting to decouple from China as they realize that its "holy grail" of a 1.4 billion-strong market has proven elusive, Pompeo said.
"I get it. People want to pursue that market," but they should be prudent about the risks and investigate ways to slowly reduce exposure to China, he said.
"If you're going to deploy capital and resources, do you want to deploy them in a country that may steal them? That may take your intellectual property, that may take your facility over?" he asked.
People should not wait for a Taiwan-US free-trade agreement to bring the two countries closer together, he said.
Economic integration is just one part of a multipronged strategy to reduce risk through advance preparation, he said.
Clarity regarding Taiwan and its place in the world is also crucial, including formal recognition of its sovereignty, he added.
"All of the eidos of sovereignty are possessed here. I think that the United States simply acknowledging that reality would reduce risk in the region," Pompeo said, reiterating a call he made during his visit in March.
"When you're in the mushy middle, when you're in that place where there is an absence of clarity, the bad guys will push. They will continue to try and extend until they meet resistance," he added. "We ought to provide that resistance."
As for Beijing's reaction to US House of Representatives Speaker Nancy Pelosi's visit to Taipei early last month, Pompeo said it reveals the CCP's "fragility."
"I watched the Chinese Communist Party overreact to a visit from a member of Congress to Taiwan. That's just crazy stuff. That shows weakness," he said.
Paired with its prosecution of 90-year-old retired Cardinal Joseph Zen (陳日君), media mogul Jimmy Lai (黎智英) and others, these actions "evince a real fragility, a real fear in the leadership" of the CCP, he said.
Looking ahead, Pompeo does not foresee a change in the US' "blessedly nonpartisan" policy toward Taiwan with any potential transfer of power in the White House.
Yet strong ties between democracies — military, economic and diplomatic — must be pursued as soon as possible, he said.
"The hard work doesn't come the day the Chinese do something stupid. The hard work happens today," he said.
Comments will be moderated. Keep comments relevant to the article. Remarks containing abusive and obscene language, personal attacks of any kind or promotion will be removed and the user banned. Final decision will be at the discretion of the Taipei Times.