Novavax to be offered to adolescents starting tomorrow
Adolescents aged 12 to 17 can start receiving the Novavax COVID-19 vaccine from tomorrow, the Central Epidemic Command Center (CECC) said yesterday, adding that the second phase of inoculations using Moderna's bivalent vaccine would begin next week.
The Ministry of Health and Welfare's Advisory Committee on Immunization Practices has recommended that the Novavax vaccine can be administered to adolescents aged 12 to 17 as their primary series of vaccines or as a booster shot. It also allowed a mix-and-match approach.
The Novavax vaccine is a good choice for eligible recipients who are worried about possible adverse reactions from other COVID-19 vaccines, said Deputy Minister of Health and Welfare Victor Wang (王必勝), who heads the CECC.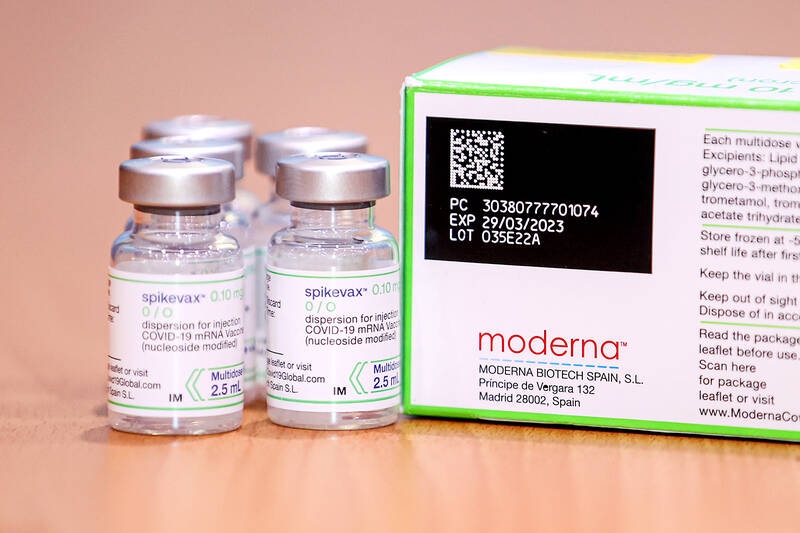 Vials and packaging for Moderna's second-generation bivalent COVID-19 vaccine are pictured at the Zhongxing Branch of Taipei Hospital on Saturday.
Photo: CNA
People aged 12 or older who want to receive the Novavax vaccine as their primary series are advised to receive the same brand of vaccine for both of their doses, and receive them at least four weeks apart, advisory committee convenor and National Taiwan University Hospital pediatrician Lee Ping-ing (李秉穎) said.
People who have received other vaccine brands as their primary series can receive the Novavax vaccine as their booster dose, on condition that they receive it at least 12 weeks after the last dose of the primary series, he said.
Very common adverse reactions of the Novavax vaccine include headache, nausea or vomiting, muscle pain, joint pain, pain at the injection site, fatigue and weakness, which could occur in at least 10 percent of the recipients, Lee said.
Common adverse reactions include redness or swelling at the injection site, fever, chills and body aches, which could occur in less than 10 percent of recipients, he said.
Rare adverse reactions, such as a rash, swollen lymph nodes and hypertension, might not have been caused by the vaccine, but they were still reported, he added.
"Generally speaking, the risk of experiencing post-vaccination adverse reactions [from the Novavax vaccine] is low compared with other COVID-19 vaccines, and most are mild reactions, which do not require hospitalization," Lee said.
Clinical trials of the vaccine have found that the most common adverse reactions are headache, fatigue and muscle pain, and that only about 6 percent developed a fever after getting the vaccine, which is less than the ratio for mRNA-based or recombinant COVID-19 vaccines, he said.
Wang said the second phase of inoculations using Moderna's bivalent COVID-19 vaccine, which has been adapted to fight the Omicron variant of SARS-CoV-2, would begin on Monday next week.
Eligible recipients include healthcare workers; airport, harbor and quarantine workers; airline crew members and sailors; care facility and social welfare facility workers; people aged 50 to 64; and people aged 18 or older who are traveling abroad for diplomatic, public affairs or business purposes, he said.
The bivalent vaccine would be offered as a booster shot, he said.
It should be received at least 12 weeks (84 days) later than the previous shot — including the last dose of the primary series or the previous booster shot, he added.
People who want to receive the bivalent vaccine for overseas travel should bring either an invitation from abroad, an approval document from the competent government agency, or an approval document from their employer, along with their National Health Insurance card, COVID-19 vaccination certificate, also known as the "Yellow Card," and plane tickets when getting vaccinated, the CECC said.
Comments will be moderated. Keep comments relevant to the article. Remarks containing abusive and obscene language, personal attacks of any kind or promotion will be removed and the user banned. Final decision will be at the discretion of the Taipei Times.