Chinese drills show Taipei must join ICAO: officials
Chinese military incursions into Taiwan's airspace pose a threat to aviation safety in the region, making it imperative for Taipei to be included in the International Civil Aviation Organization (ICAO), government officials said on Monday.
While some might think that Taiwan's wish to join the ICAO is a political goal, recent developments in the Taiwan Strait show that international civil aviation safety transcends politics and is vital to the safety of all air passengers, Representative to Canada Harry Tseng (曾厚仁) said prior to the ICAO Assembly in Montreal.
Taiwan has not been invited to ICAO meetings since 2013, and it has been left out of this year's assembly, which began yesterday at the organization's headquarters and is to run until Friday next week.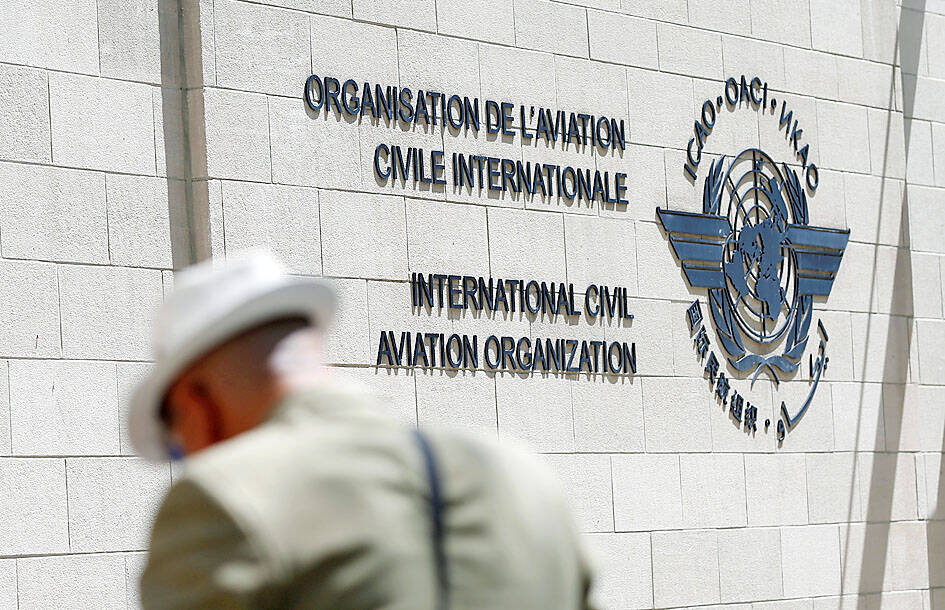 A man walks past the International Civil Aviation Organization headquarters building in Montreal, Quebec, on June 15, 2017.
Photo: Reuters
The military exercises that China launched following US House of Representatives Speaker Nancy Pelosi's visit to Taipei last month posed a severe threat to the Taipei flight information region's (FIR) security, Tseng told a news conference on Monday.
The international community should understand that China's military exercises clearly contravened ICAO regulations, and compromised the aviation safety of Taiwan and neighboring countries, he said.
That the drills were held so close to Taiwan proper constituted a major development, which should be discussed at the ICAO Assembly, Tseng said.
Tseng is part of a government delegation campaigning in Montreal for Taiwan's inclusion in the ICAO.
Civil Aeronautics Administration Deputy Director-General Lin Jiunn-liang (林俊良), who is leading the delegation, said Taiwan is the sole managing authority of the Taipei FIR, which provided services to 72 million passengers in 2019 prior to the COVID-19 pandemic.
Taiwanese commercial airlines rank among the best in the world and Taiwan is willing to contribute to global aviation safety, Lin said, appealing for the country's inclusion in the ICAO.
The delegation on Monday held bilateral discussions with representatives of Taiwan's diplomatic allies and like-minded countries.
Paraguayan National Directorate of Civil Aviation head Felix Kanazawa said it is essential to support Taiwan's bid to join the ICAO as an observer.
Saint Lucia Consul General to Canada Henry Mangal said the diplomatic ally plans to advocate for Taiwan's membership in the ICAO.
Comments will be moderated. Keep comments relevant to the article. Remarks containing abusive and obscene language, personal attacks of any kind or promotion will be removed and the user banned. Final decision will be at the discretion of the Taipei Times.