Pompeo, Kaohsiung mayor tout stability
Former US secretary of state Mike Pompeo and Kaohsiung Mayor Chen Chi-mai (陳其邁) yesterday talked about the importance of maintaining peace and stability across the Taiwan Strait.
Pompeo could not attend a scheduled breakfast meeting, due to his flight being delayed the night before and instead talked with Chen for 10 minutes behind closed doors.
Answering reporters' questions following the meeting, Chen said the two exchanged views on East Asian geopolitics and discussed strategies to maintain peace in the Indo-Pacific region, including the need for the US to be a more assertive leader in the alliance of democratic nations.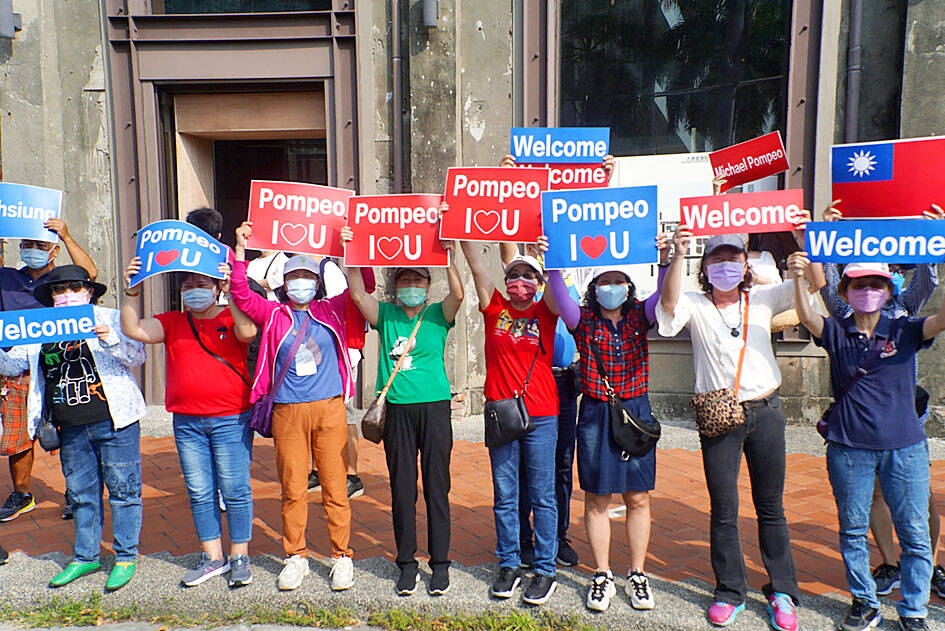 Kaohsiung residents hold up signs for former US secretary of state Mike Pompeo near the Pier-2 Art Center in Kaohsiung yesterday.
Photo: CNA
He cited Pompeo as saying that he agreed with the importance of safeguarding regional peace.
Pompeo also emphasized trade as a force for peace and stability as powerful as any act of cooperation between governments, Chen said.
Chen said he told Pompeo that the integration of technology supply chains is crucial to the future of free trade and the security of Taiwan, to which Pompeo agreed.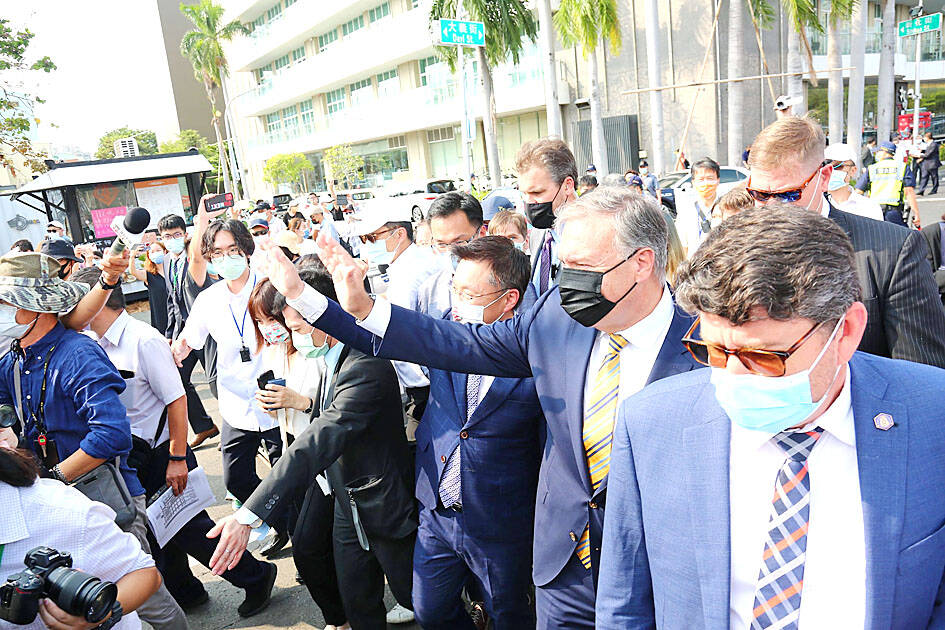 Former US secretary of state Mike Pompeo, second right, waves at people near the Pier-2 Art Center in Kaohsiung yesterday.
Photo: Lee Hui-chou, Taipei Times
Pompeo also underscored the need for Taiwan and the US to enhance their collaborations in trade, economy and democracy, Chen said.
Chen said he told Pompeo that Kaohsiung is a regional trade hub and the birthplace of Taiwan's democracy movement, including the Kaohsiung Incident in 1979.
He said he thanked Pompeo for being a strong supporter of Taiwan's national security and right to be represented in international organizations while he was in office.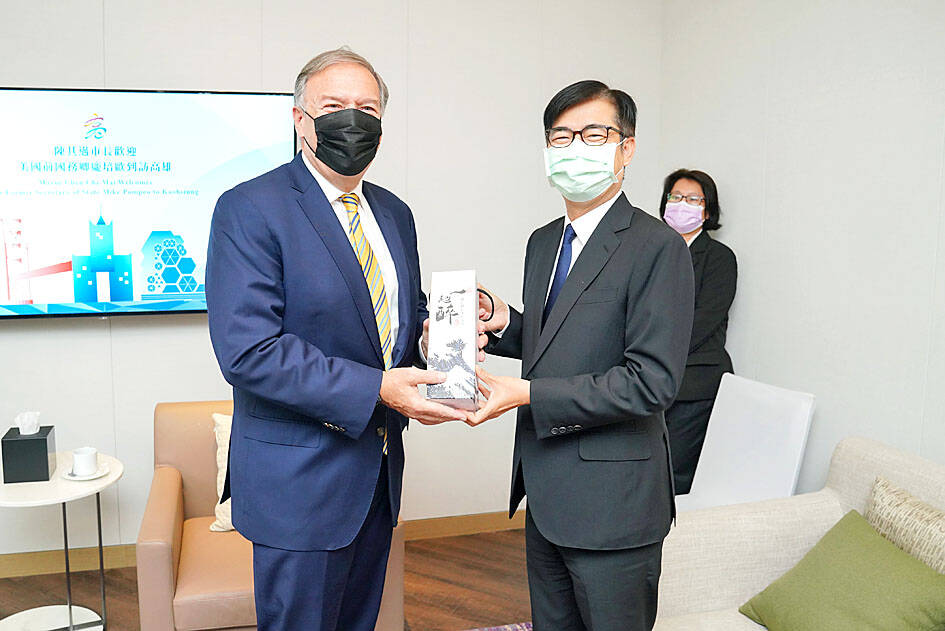 Kaohsiung Mayor Chen Chi-mai, right, hands a gift to former US secretary of state Mike Pompeo at the Kaohsiung City Government yesterday.
Photo courtesy of the Kaohsiung City Government
Chen also presented Pompeo with locally produced fine porcelain, rice wine and tea as gifts.
Pompeo said he was happy to visit Kaohsiung and added that the city's 2.72 million population is equal to the entire population of his home state of Kansas, the Kaohsiung Department of Administrative and International Affairs said.
After the conclusion of the Global Taiwan Business Forum yesterday morning, during which Pompeo delivered a speech, he was taken on a tour of the Pier-2 arts district, where he viewed the rotating Great Harbor Bridge (大港橋) and took a ride on the light rail before attending private talks later in the day.
Crowds of Kaohsiung residents gathered around Pompeo, with some holding up signs bearing messages of welcome or shouting greetings.
Additional reporting by Wang Jung-hsiang
Comments will be moderated. Keep comments relevant to the article. Remarks containing abusive and obscene language, personal attacks of any kind or promotion will be removed and the user banned. Final decision will be at the discretion of the Taipei Times.