Study creates maps of noisiest areas in Taipei
AFFECTING PEOPLE'S HEALTH: Noise has been the most frequently reported environmental hazard in the capital, said Chan Ta-chien, the researcher who led the project
Three in 10 Taipei residents live in areas that are "noisy" by WHO standards, soundscape maps created by an Academia Sinica research team showed.
Chan Ta-chien (詹大千), a research fellow at the institution's Research Center for Humanities and Social Sciences, led his team to create two-dimensional and three-dimensional maps with environmental and weather data.
The WHO recommends reducing exposure to daytime outdoor noise levels to below 53 decibels, a standard that areas where about 30 percent of Taipei residents live fail to meet, and 45 decibels during the night, which areas where 25 percent of Taipei residents live fail to meet.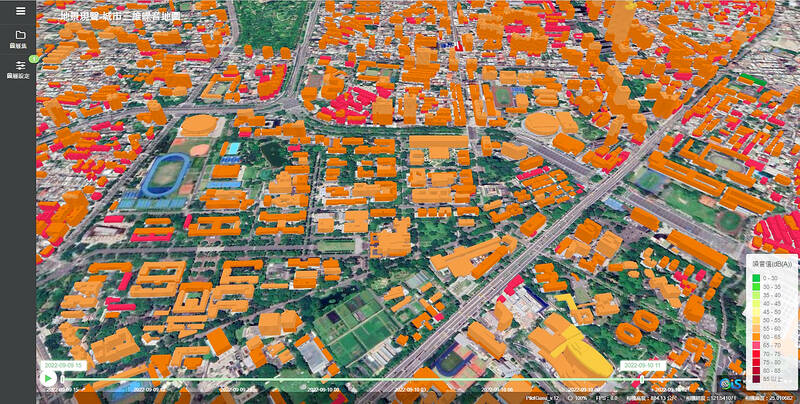 A soundscape map of Taipei is shown on a platform created by Chan Ta-chien, a research fellow at Academia Sinica's Research Center for Humanities and Social Sciences, in an undated photograph.
Photo copied from the map platform Web site
Noise has several effects on people, the Environmental Protection Administration said on its Web site, adding that noise levels of 50 to 70 decibels might cause a light discomfort in some people and long-term exposure to noise of more than 70 decibels can cause anxiety-related symptoms.
Taipei's Daan (大安) and Zhongshan (中山) districts are especially noisy at night, while areas close to Taipei International Airport (Songshan airport) and its flight paths, such as part of Songshan District (松山) and the Taipei Flora Expo Park (台北花博公園), are noisy during the day, Chan said.
Using the platform provided by the National Applied Research Laboratories' National Center for High-performance Computing, the team drew the soundscape maps for Taipei and Taichung based on statistical models.
The models were created with noise monitoring data from local departments of environmental protection, real-time traffic data from transportation units, weather data from the Central Weather Bureau, traffic information, and socioeconomic and population data.
Noise has been the most frequently reported environmental hazard in Taipei in the past few years, Chan said.
Most residential buildings in Taiwan are near commercial buildings, so the standard of permissible noise is lower than in the WHO guidelines, he said.
However, the noise problems should still be carefully investigated, as the international focus is increasingly on noise pollution, he said, citing EU standards and the UN Sustainable Development Goals.
Taiwan conducts noise tests only twice every season, so it is difficult to know how many people are exposed to noise, he said.
The team developed a "soundbox" equipped with digital sensors that can transfer real-time environmental sound data to the researchers, he said.
The team is seeking to link the boxes with air quality sensors, he added.
Data from traffic monitoring devices installed at more than 700 road sections in Taipei can detect the most serious sources of traffic noise through reverse calculation, he said.
Chan said that the soundscape maps are updated hourly and can be accessed at this site.
Wu Chen-chi (吳振吉), a professor in National Taiwan University's Department of Otolaryngology, said that noise increases the risk of cardiovascular disease, hearing loss and dementia.
People who are exposed to long-term noise face a higher risk of depression, so those who feel unwell and suspect that noise is the cause should seek medical attention as soon as possible, he said.
Chan said people who live on the lower floors of buildings next to city streets should install sound insulation doors and windows to reduce their exposure.
The project was a cooperation with Lin Bo-cheng (林柏丞), an assistant professor in National Taipei University's Department of Real Estate and Built Environment; Chen Ling-jyh (陳伶志), an associate research fellow at Academia Sinica's Institute of Information Science; Hwang Jing-shiang (黃景祥), a research fellow at Academia Sinica's Institute of Statistical Science; and Wu Bing-sheng (吳秉昇), an associate professor in National Taiwan Normal University's Department of Geography.
The WHO in its Environmental Noise Guidelines for the European Region said that noise exposure increases the risk of high blood pressure, sleep deprivation and mental stress.
Research published in the European Heart Journal has showed that 6 percent of people who live in an environment with an average noise level of more than 50 decibels are at risk of developing high blood pressure.
Comments will be moderated. Keep comments relevant to the article. Remarks containing abusive and obscene language, personal attacks of any kind or promotion will be removed and the user banned. Final decision will be at the discretion of the Taipei Times.