Control Yuan censures Yunlin education agency over beatings, dress code at school
Poor supervision of a school that had improper dress codes and implemented corporal punishment prompted a Control Yuan censure yesterday of the Yunlin County Department of Education.
Civic groups in February last year reported that Yuan Ming Junior High School illegally imposed corporal punishment and restrictions on hairstyles, Control Yuan member Yeh Ta-hua (葉大華) told a news conference in Taipei.
An investigation conducted by Yeh and Control Yuan member Lai Ting-ming (賴鼎銘) found that the issues were first reported to the Ministry of Education's K-12 Education Administration in May 2020, but the Yunlin department failed to launch an investigation, she said.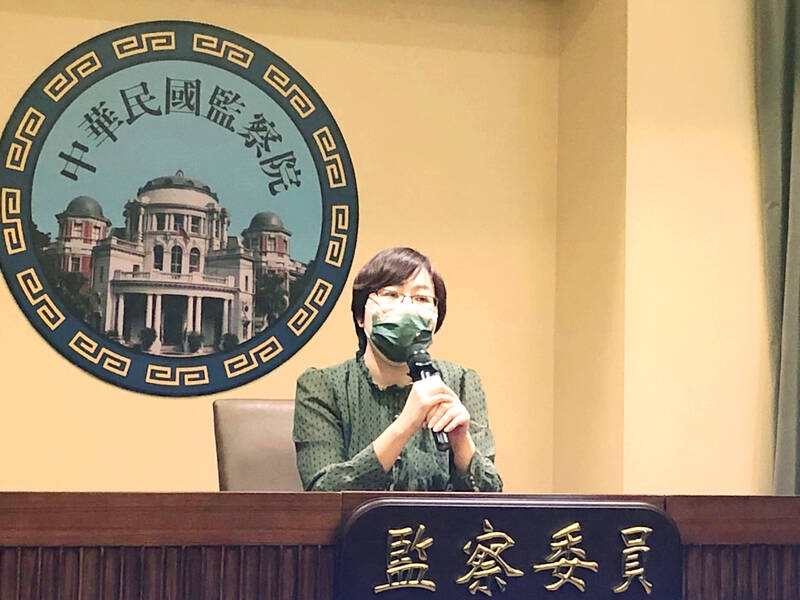 Control Yuan member Yeh Ta-hua speaks at a news conference in Taipei yesterday.
Photo: CNA
The department did not order the school to revise its regulations until the ministry introduced new dress code policies on Aug. 3, 2020, Yeh said.
The department conducted an on-site inspection and found that the school required short hair for male students, contravening Article 21 of the Observations on the Notice Governing Educators' Teaching and Punishing of Students as Defined by Schools (學校訂定教師輔導與管教學生辦法注意事項), she said.
The school also had regulations regarding underwear, socks and shoes, while the process for electing members of its dress code committee contravened the Principles for Making Regulations on Students' Clothing and Appearance in Junior High Schools (國民中學訂定學生服裝儀容規定之原則), Yeh said.
The school advised female students to wear light-colored underwear, which might be against the Gender Equity Education Act (性別平等教育法), she said.
The department asked 60 students at the school about corporal punishment, with four saying they had received it "almost every day" and nine saying it happened to them "almost every week," she said.
The punishments they described constituted physical or mental abuse according to the UN Convention on the Rights of the Child, she added.
The school convened a meeting regarding the issues, but determined that they were not serious or were reasonable teaching methods, Yeh said.
The meeting concluded that the six teachers involved did not act in breach of the Teachers' Act (教師法), she added.
Expressing doubts regarding the meeting's conclusions, the K-12 agency ordered a follow-up meeting, which gave four of the six teachers a warning, Yeh said.
The Yunlin department was censored for its poor supervision of the school and not properly investigating the issues, she said.
Comments will be moderated. Keep comments relevant to the article. Remarks containing abusive and obscene language, personal attacks of any kind or promotion will be removed and the user banned. Final decision will be at the discretion of the Taipei Times.