Fu Jen Catholic University to host 'Taiwan World Cup'
Fu Jen Catholic University in New Taipei City next month is to host two days of "World Cup Taiwan" soccer with the international community and foreign students organizing a tournament that is to focus on cultural exchanges and friendships, as well as competition on the pitch.
Eighteen teams are to attend the World Cup Taiwan 2022 at Fu Jen Catholic University's grounds on Oct. 8 and 9, with squads representing Taiwan, other Asian nations and countries in the Americas, Africa and Europe, organizers said on Thursday.
The theme of the weekend is "One sport, one world," they said.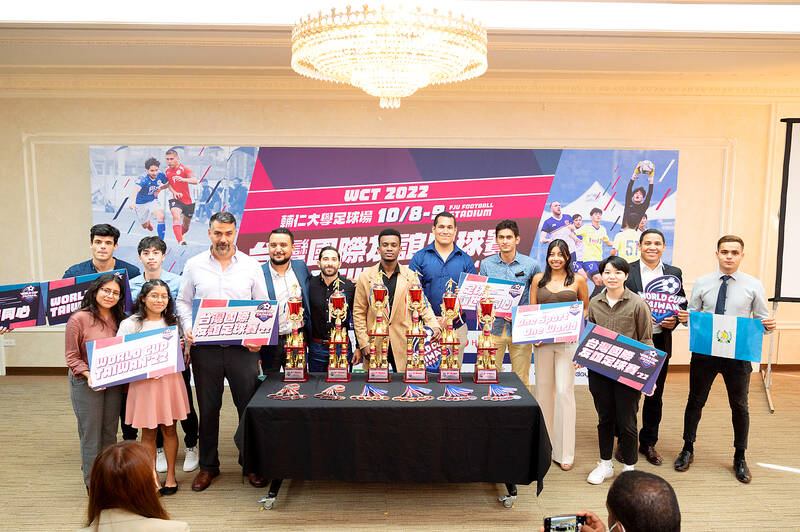 Team captains pose with trophies at the World Cup Taiwan 2022 launch event in Taipei's Tianmu area on Thursday.
Photo courtesy of the Taiwan Digital Diplomacy Association
There would be more than just soccer action, with the return of the Food and Culture Festival on the sidelines, with stalls selling tacos, burritos, German sausages, Turkish meatballs and other international cuisine, along with dance, music and cultural performances representing more than 10 countries, organizers said.
"We want this annual soccer festival to draw more international attention," Kuo Chia-yo (郭家佑), an event organizer, told a media briefing in Taipei. "Moreover, playing soccer provides opportunities for Taiwanese to have closer interactions with foreigners living in Taiwan."
Diplomats from 10 of Taiwan's diplomatic allies, Ministry of Foreign Affairs officials and players attended Thursday's briefing.
Kuo, who founded the Taiwan Digital Diplomacy Association, said that visitors to Taiwan would have a chance to take home fond memories of the matches and friends they make over the two days.
Hopefully, people in the international community studying or working in Taiwan would take back to their home country "good experiences, friendly encounters and interesting stories about Taiwan to tell their friends and family, instead of just mentioning boba milk tea, stinky tofu or Taipei 101," she said.
Taiwan Football Development Association director Max Shih (石明謹) said that he has been promoting soccer through his organization for the past three decades.
The sport is an "international language and a way to get to know people from other countries," Shih said.
"This World Cup Taiwan tournament is the best way to realize my aims," he said. "My organization will assist in every way to make this year a big success. In doing so, we can share the magic of soccer and passion for the game with friends from around the world."
Men's and women's teams with players representing Taiwan, Paraguay, Honduras, Guatemala, Belize, Nicaragua, Eswatini, Saint Lucia, the US, Italy, Spain and Haiti are to vie for trophies.
Companies including Sportcast, ETtoday and PTS are to broadcast the matches in Taiwan and overseas.
Tickets for the event are to be sold at the entrance or online at www.accupass.com/go/worldcuptaiwan2022.
This story has been amended since it was first published.
Comments will be moderated. Keep comments relevant to the article. Remarks containing abusive and obscene language, personal attacks of any kind or promotion will be removed and the user banned. Final decision will be at the discretion of the Taipei Times.