Three US banks to exit China if US imposes sanctions
The heads of three major US banks on Wednesday pledged that they would withdraw from the Chinese market if Washington imposed sanctions on Beijing in response to an invasion of Taiwan.
JP Morgan Chase chairman and CEO Jamie Dimon, Bank of America chairman and CEO Brian Moynihan and Citigroup CEO Jane Fraser told lawmakers at a hearing of the US House of Representatives Committee on Financial Services in Washington that the three banks would follow the guidance of the US government to exit China if necessary.
The three bankers made the pledge after US Representative Blaine Luetkemeyer asked the three if they would pull their investments out of China should the Chinese Communist Party follow through on its threat to invade Taiwan.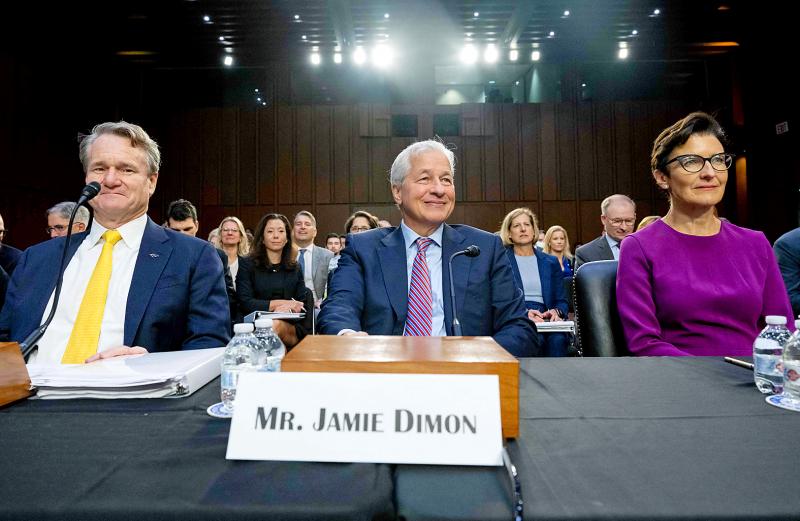 Brian Thomas Moynihan, left, Chairman and CEO of Bank of America, Jamie Dimon, center, Chairman and CEO of JPMorgan Chase, and Jane Fraser, right, CEO of Citigroup, arrive to testify during a Senate Banking, Housing, and Urban Affairs Committee Hearing on the Annual Oversight of the Nation`s Largest Banks, on Capitol Hill in Washington, D.C. yesterday.
Photo: AFP
The US lawmaker spoke of Beijing's continual threats toward Taiwan and its military exercises around Taiwan last month.
Citing the military actions of Russia against Ukraine, Luetkemeyer said there was a great risk in investing in "volatile nations with dictatorial governments" as financial institutions have played a significant role in supporting these regimes' economies.
Moynihan said Bank of America had followed the government's guidance to "work with China" in the past few decades, but if the US position changed, "we'll immediately change it as we did in Russia."
Dimon and Fraser agreed with Moynihan's comments on following the government's lead.
"We very much hope it doesn't happen," Fraser added.
Since Russia invaded Ukraine in February, the security situation across the Taiwan Strait has drawn increasing interest in the international community.
Fears over a possible invasion of Taiwan have been growing, in particular after US House of Representatives Speaker Nancy Pelosi made a 19-hour visit to Taipei early last month, which China strongly opposed.
Pelosi's visit prompted China to launch several days of large-scale military exercises around Taiwan.
In a prerecorded interview with CBS' 60 Minutes program that aired on Sunday, US President Joe Biden told host Scott Pelley that the US would defend Taiwan "if in fact there was an unprecedented attack."
Comments will be moderated. Keep comments relevant to the article. Remarks containing abusive and obscene language, personal attacks of any kind or promotion will be removed and the user banned. Final decision will be at the discretion of the Taipei Times.