Puppet exhibition opens in Yunlin County
An exhibition featuring more than 100 puppets from around the world opened in Yunlin County on Tuesday last week.
"The World On Your Hand: An Exhibition of International Hand Puppetry" is to run at the Yunlin Palm Puppets Museum until March 12 next year.
One of the puppets at the exhibition is a German creation called Kasper, which is similar to the UK's Mr Punch and is a popular comic character in German string puppet and glove puppet theaters, the museum said.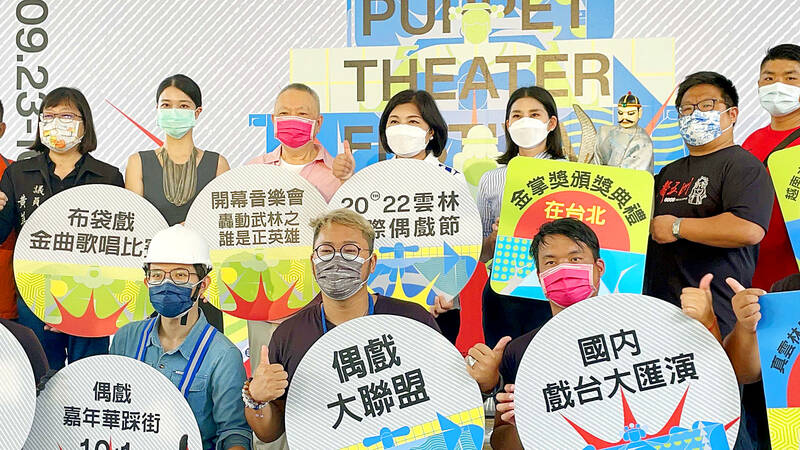 Yunlin County Commissioner Chang Li-shan, back row, fourth left, and others in Huwei Township on Tuesday hold placards promoting a puppet festival.
Photo: CNA
Kasper's role has changed, said the Taiwan Potehi Institute, an organizer of the event.
Although it was originally known for its violent behavior and rude remarks, the puppet underwent a makeover in the 20th century and is now known as an educator and often used to teach young children how to behave, said the institute, which is overseen by the Yunlin Culture and Tourism Department.
The exhibition also features puppets from Mexico.
The history of Mexican puppetry dates to the pre-Columbian era, the institute said, adding that indigenous puppet culture later mixed with what European colonizers brought with them.
The Mexican puppets at the exhibition were made by Lola Cueto, one of the most influential theater puppet designers of the 20th century, it said.
She was one of the first female students at the Academy of San Carlos, the first major arts academy in the Americas, and among a few professional female artists in Mexico in the early 20th century, it added.
Dmitri Carter, executive director of the Northwest Puppet Center in Seattle who co-organized the exhibition, said that puppets can be traced back to early human civilization and are a common art form around the world.
He is grateful for the opportunity to showcase the puppets on display and discuss puppetry as an art form, said Carter, an educator and a puppet collector.
Hopefully, visitors to the exhibition would gain a deeper understanding of the cultural legacy of puppetry, he said.
Yunlin County Commissioner Chang Li-shan (張麗善) told the opening ceremony that the institute was established in March last year to promote the traditional art form in Yunlin, considered the birthplace of Taiwanese puppetry.
The institute is the first of its kind dedicated to traditional Taiwanese glove puppetry and aims to develop international connections as showcased by the exhibition, Chang said.
Hopefully, the exhibition would inspire local puppet artists and performers, she said.
The institute's headquarters in the Taiwan Potehi Cultural District in Huwei Township (虎尾) is still under construction and is scheduled to open by the end of next year.
Comments will be moderated. Keep comments relevant to the article. Remarks containing abusive and obscene language, personal attacks of any kind or promotion will be removed and the user banned. Final decision will be at the discretion of the Taipei Times.