Taiwan deserves a seat at ICAO meet, minister says
Taiwan should be allowed to participate in the upcoming International Civil Aviation Organization (ICAO) Assembly to share and gain access to key aviation information following China's military exercises around the nation last month, Minister of Transportation and Communications Wang Kwo-tsai (王國材) said in an article published in The Diplomat online magazine.
The live-fire military drills, which were launched one day after US House of Representatives Speaker Nancy Pelosi completed a visit to Taiwan early last month, were announced unilaterally and at short notice, affecting international air routes and jeopardizing aviation safety in the Taipei Flight Information Region (FIR) and neighboring FIRs, Wang said.
"In an effort to avert danger and alleviate safety concerns, the Taiwan CAA [Civil Aeronautics Administration] had to hastily make plans and guide aircraft, including many foreign aircraft, departing, arriving in or transiting the Taipei FIR. The situation burdened airlines with additional costs due to their need to take longer and more expensive journeys and substantially increased unforeseen risk," Wang said.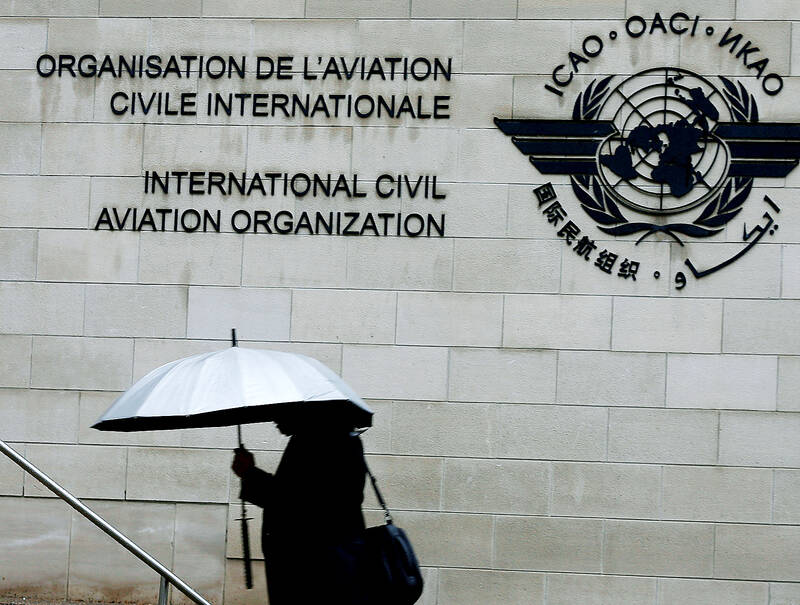 A pedestrian walks past the International Civil Aviation Organization headquarters building in Montreal, Quebec, on June 16, 2017.
Photo: Reuters
"From both a risk and safety management perspective, ICAO should allow the Taiwan CAA to participate in ICAO so that it is able to communicate with other FIRs and provide and obtain timely information via ICAO," he said. "We call on ICAO to reconnect with Taiwan in a collective effort to achieve the goal of a seamless sky."
The 41st session of the triennial ICAO Assembly, which is to be held from Sept. 27 to Oct. 7 in Montreal, Quebec, would be "symbolic for supporting the recovery of the aviation sector," Wang said.
"As the global aviation industry has been hit especially hard by the COVID-19 pandemic, collaboration among all stakeholders in support of passenger health and safe travel is more important than ever. No civil aviation authority should be excluded," he said.
Wang also highlighted the CAA's efforts in maintaining the safety of the Taipei FIR, adhering to anti-pandemic measures and complying with ICAO's Standards and Recommended Practices, despite the severe effects that the pandemic has had on the world over the past two years.
"With a joint effort by civil aviation stakeholders and the government, Taiwan's national carriers have been among the few airlines around the world to have remained profitable and not cut jobs," he said.
Wang cited Airports Council International statistics from 2020 to last year, which show that Taiwan Taoyuan International Airport, Taiwan's largest, was the world's fourth-busiest airport for international air cargo.
Taiwan's participation in ICAO is also necessary, as the organization is tackling challenges to aviation safety brought by uncrewed aerial vehicles, he said.
"As the wider use of drones poses a potential risk to aviation safety and airport operations, ICAO has been revising or adopting provisions in related guidance materials regarding unmanned aircraft systems," he said.
Despite a lack of access to ICAO information, Wang said the CAA has established management mechanisms in a timely manner to maintain aviation safety within the Taipei FIR, while also helping spur the development of drone-related industries.
The CAA also plans to install a next-generation air traffic control automation system to ensure its air traffic management system meets the operational needs of the Taipei FIR, Wang said, adding that the aim is to contribute to greater regional and global navigation efficiency.
"Taiwan is willing to share its aviation experiences with other countries and hopes to learn about theirs to improve aviation safety," he said.
Comments will be moderated. Keep comments relevant to the article. Remarks containing abusive and obscene language, personal attacks of any kind or promotion will be removed and the user banned. Final decision will be at the discretion of the Taipei Times.