Academy dedicated to the circular economy founded
Government partnerships with academia and enterprises are key to achieving net zero emissions by 2050, President Tsai Ing-wen (蔡英文) said yesterday at the founding of the nation's first academy dedicated to the circular economy.
The National Chung Hsing University Academy of Circular Economy in Nantou County is the first educational institution of its kind to be established in Taiwan and is to play a lead role in the nation's efforts to tackle the challenges of climate change, the president said.
The academy is supported by 41 entrepreneurial partners to serve as the backbone of the national team for the development of net zero technologies, she said, adding that more research institutions are planned for the campus.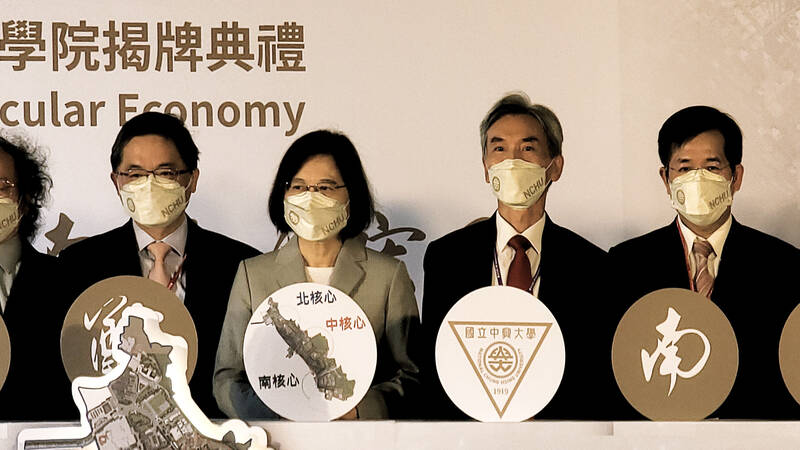 President Tsai Ing-wen, third right, attends the opening of the National Chung Hsing University Academy of Circular Economy in Nantou County's Jhongsing New Village yesterday.
Photo: Tung Chen-kuo, Taipei Times
The creation of the Nantou campus of the Taichung-based university demonstrates the government's commitment to developing a workforce and technology for the Taiwanese economy to thrive, she said.
Other research institutes would be established at the Nantou campus to provide the education the country needs to create to build a high-tech workforce, she said.
The Nantou campus is in Jhongsing New Village (中興新村), the former seat of the now-defunct Taiwan Provincial Government, university president Shieu Fuh-sheng (薛富盛) said.
As a former economic and political node, the township's highly developed economic zone lacks only an institution of higher learning, which the founding of the campus would provide, he said.
The Academy of Circular Economy — established under Taipei's directive to boost industry-university collaboration in key technological fields — would become Asia's first research institute for new agriculture, digital and green semiconductor technologies, he said.
Taiwan Semiconductor Manufacturing Co and other major corporations are assisting with the academy's work to develop sustainable and zero emission technologies, he said.
Over the next decade, the university plans to continue expanding the campus to establish six academies, three research centers and other facilities, including an "ark" botanical garden, a museum of entomology, dorms, classroom buildings and labs, he said.
The creation of the campus can potentially remake Nantou into a tech industry powerhouse for Taiwan, Nantou County commissioner candidate Frida Tsai (蔡培慧) said, adding that she would boost green technologies and social welfare if elected.
Comments will be moderated. Keep comments relevant to the article. Remarks containing abusive and obscene language, personal attacks of any kind or promotion will be removed and the user banned. Final decision will be at the discretion of the Taipei Times.