Two Chinese aircraft cross median line
Two Chinese aircraft yesterday crossed the median line of the Taiwan Strait, the Ministry of National Defense said, as Beijing continues its military maneuvers near the nation.
Although not an internationally recognized delineation, the median line had been tacitly accepted by both sides since the 1950s.
On Sunday, two Chinese fighter jets and an uncrewed aerial vehicle also crossed the median line, the ministry said.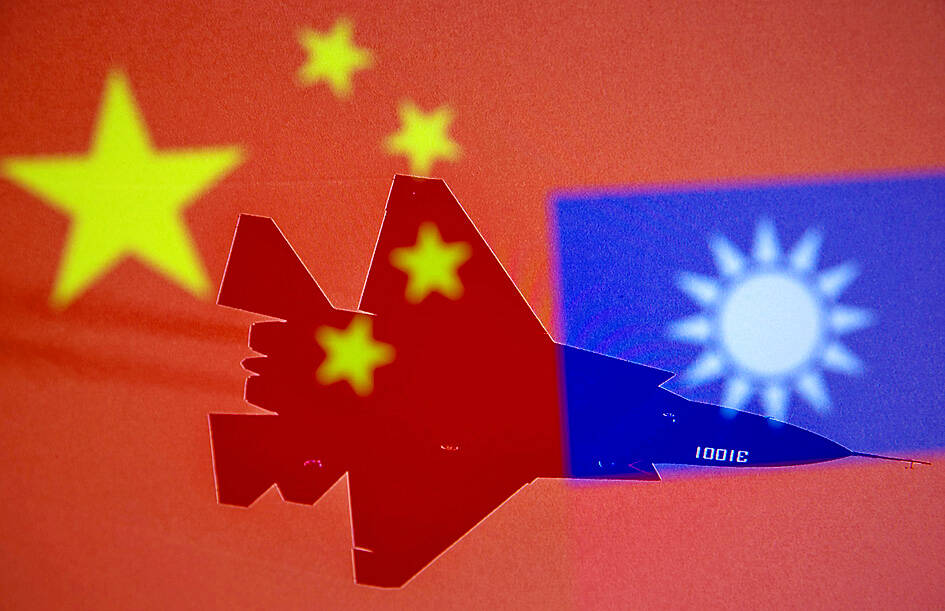 The flags of Taiwan, right, and China are superimposed on the image of a fighter jet in an illustration taken on April 9 last year.
Photo: Reuters
The three aircraft were among eight that were detected around Taiwan that day, along with five Chinese naval ships, it added.
Two Shenyang J-11 fighters crossed the median line near northern Taiwan, while a KVD-001 drone crossed the line further north, it said.
Separately on Sunday, a Y-8 tactical reconnaissance plane and a Guizhou BZK-007 drone entered the southwestern part of Taiwan's air defense identification zone (ADIZ), it added.
The ministry did not disclose the flight paths of the aircraft or the locations of the naval vessels.
The military scrambled fighter jets and naval vessels, and tracked the Chinese aircraft with surface-to-air missile systems, the ministry said.
The ministry has since September last year been publishing information about Chinese incursions into Taiwan's ADIZ, amid a growing number of intrusions.
China stepped up its military maneuvers early last month and held live-fire drills in six locations around Taiwan, shortly after a visit to Taipei by US House of Representatives Speaker Nancy Pelosi.
Since then, dozens of Chinese warplanes, including 14 on Thursday, have crossed the median line.
Additional reporting by Reuters
Comments will be moderated. Keep comments relevant to the article. Remarks containing abusive and obscene language, personal attacks of any kind or promotion will be removed and the user banned. Final decision will be at the discretion of the Taipei Times.