Taiwan artitsts perform at Singapore music festival
Several Taiwanese entertainers took their unique talent to Singapore over the weekend at the ASEAN Music Showcase Festival, which was held live for the first time since it was launched in 2020.
Although Taiwan is not a member of ASEAN, two Taiwanese bands and a local singer were invited to perform to broaden participation and enrich the two-day festival, cofounder David Siow (蕭文聖) said.
The annual event is aimed at connecting musicians and fans from around the Southeast Asian region.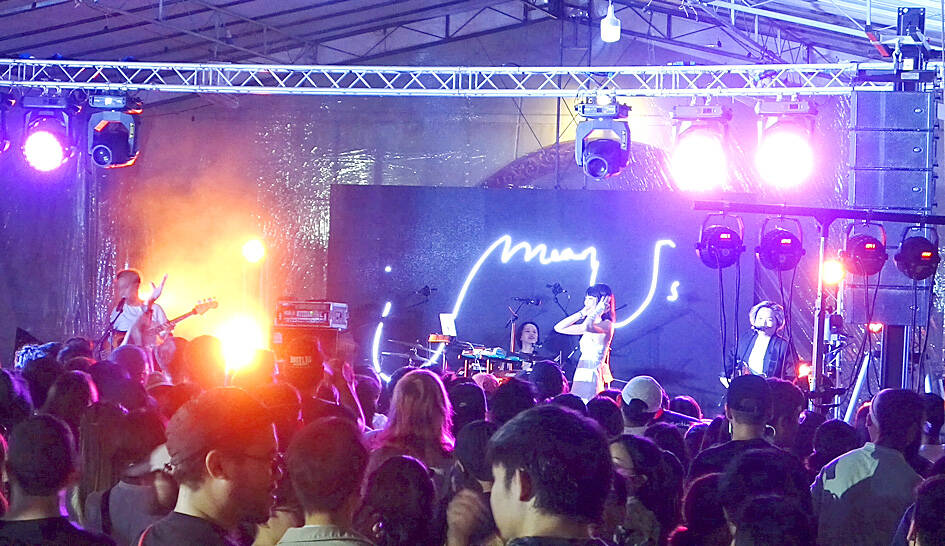 Taiwanese rock band I Mean Us performs at the ASEAN Music Showcase Festival in Singapore on Sunday.
Photo: CNA
Festivalgoers were treated to music by Taiwanese singer and songwriter LUCY, and the bands I Mean Us and Huan Huan.
Also performing were Malaysian blues artist NYK, Singaporean band Amateur Takes Control, Cambodian hip-hop star VannDa and Indonesian singer-songwriter Pamungkas.
LUCY said it was her first time performing in Singapore and she was excited to perform some of the songs on her debut album for her fans there.
I Mean Us lead singer Mandark said she was warmed by the passion of the fans in Singapore and was pleased to see some familiar faces, having performed there two years ago.
The festival, which was held virtually for the first two years due to the COVID-19 pandemic, was staged at Haw Par Villa, a large theme park that features various aspects of Asian culture, history, philosophy and religion. It contains about 1,000 statues and 150 giant dioramas depicting scenes from Chinese mythology, folklore, legends and history, along with illustrations of Confucianism.
The venue was chosen as it "embodies the cultures of the participants" at the festival, Siow said.
Taiwan's participation in the festival was achieved through joint efforts by its Ministry of Culture, Taiwan ASEAN Music Action, and the Taipei Economic and Cultural Office in Malaysia.
The only other non-ASEAN participant besides Taiwan was India.
Comments will be moderated. Keep comments relevant to the article. Remarks containing abusive and obscene language, personal attacks of any kind or promotion will be removed and the user banned. Final decision will be at the discretion of the Taipei Times.