Canceling quarantine for arrivals advised
STRICTNESS OUTDATED? The data show the rate of severe cases and deaths is not rising, which indicates the virus is gradually becoming endemic, an official said
The COVID-19 quarantine policy for people arriving in Taiwan should be scrapped, as the vast majority of cases are domestic, Lee Ping-ing (李秉穎), head of the Advisory Committee on Immunization Practices, said on Thursday.
The main variant of SARS-CoV-2 circulating internationally right now — Omicron BA.5 — is widespread in Taiwan, which means "there is no need to be so strict," Lee said during a radio interview.
However, government leaders "might have their concerns and want to observe [the situation] for a little while longer," in part because of the recent uptick in COVID-19 cases in Taiwan, with more than 40,000 cases reported on Wednesday for the first time since late June, he said.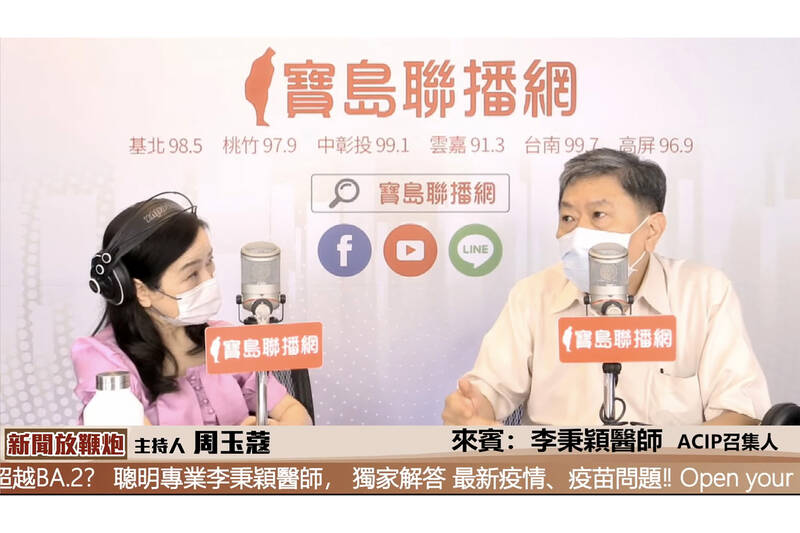 Advisory Committee on Immunization Practices head Lee Ping-ing, right, speaks with Clara Chou on her radio show on Thursday.
Photo: screen grab from Baodao Radio livestream
"If you look closely at the data, the rate of severe cases and deaths is not rising, which shows that the virus is gradually becoming endemic and producing milder symptoms," he said.
Under Taiwan's "3+4" quarantine policy, which has been in place since June 15, arriving travelers are required to quarantine for three days, either at home or at a quarantine hotel, then observe four days of "self-initiated epidemic prevention."
People who are eligible to get the second-generation Moderna COVID-19 vaccine should do so when it is rolled out in Taiwan this month rather than wait for a product that specifically targets the BA.5 variant, Lee said.
As new variants are cropping up every three to six months, there could be an entirely new strain circulating before a BA.5-specific vaccine becomes widely available, he said.
It appears that people are increasingly regarding COVID-19 as similar to the common cold, which might be why only 9.7 percent of people in Taiwan have received a second COVID-19 vaccine booster, or a fourth shot, Lee said.
He had long anticipated that COVID-19 would become endemic, creating a situation where "regardless of new variants and breakthrough infections, the number of severe cases and death will remain stable," he said.
In such a situation, it might be possible to take two doses of a second-generation vaccine and then rely on the body's T cell response to do the rest, he said.
"As soon as this no longer poses a threat to life, there will not be any need to take COVID-19 vaccines," he said.
Comments will be moderated. Keep comments relevant to the article. Remarks containing abusive and obscene language, personal attacks of any kind or promotion will be removed and the user banned. Final decision will be at the discretion of the Taipei Times.