7-Eleven to deliver coffee with robotic carts in Kaohsiung
Uni-President Enterprises is developing for its 7-Eleven convenience stores automated carts that can ride elevators to be trialed in Kaohsiung and an automated delivery drone system to be tested in Hsinchu County.
7-Eleven Inc on Friday said it signed a memorandum of understanding with the Industrial Technology Research Institute to work with the Autonomous Mobile Robot Alliance on the cart delivery system.
The alliance, established in July last year, is a consortium of eight corporations seeking to set standards for automated technology, define robot capabilities and find solutions for cross-system collaborations for the robotics industry.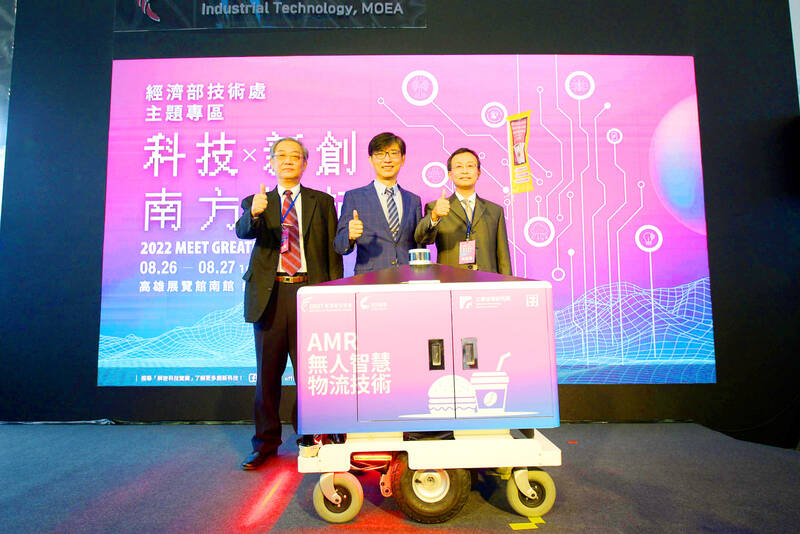 From left, Industrial Technology Research Institute Southern Region Campus director-general Tau Fang-hei, Ministry of Economic Affairs Department of Industrial Technology Director-General Chiou Chyou-huey and 7-Eleven project vice president Wu Chen-hui pose for a photograph at the Meet Greater South x 5G AIoT Expo at Kaohsiung Exhibition Center on Friday last week.
Photo courtesy of the Ministry of Economic Affairs
Uni-President said it is using its food delivery platform Foodomo to provide door-to-door delivery of goods by automated robots, adding that a trial of the carts would begin at a 7-Eleven at the Kaohsiung Software Technology Park in October.
The convenience store would serve as center of operations for the automated carts, which would deliver food and coffee directly to nearby offices.
The carts can operate indoors and outdoors, and ride elevators by themselves, the company said.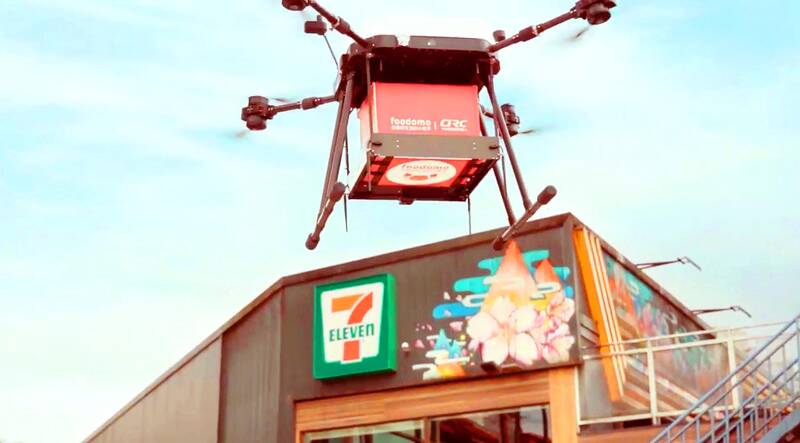 A cargo-carrying drone flies in front of a 7-Eleven in an undated photograph.
Photo courtesy of 7-Eleven Inc via CNA
Capable of carrying 24 orders per trip, the cart is expected to cut delivery overhead by 70 percent and could become a solution for providing services in a labor-starved aged society amid a declining birthrate.
Uni-President's 7-Eleven and Cosmed stores, Foodomo and delivery company President Transnet are collaborating with Coretronic Intelligent Robotics Corp (CIRC) on an automated drone delivery system, which they are to trial in Hsinchu County in the fourth quarter.
Rural areas often have a shortage of delivery personnel and less developed infrastructure, an issue that the drone delivery service seeks to solve, 7-Eleven said.
A person can order products through Foodomo, and President Transnet would transport the goods to a CIRC drone platform to deliver products to a designated area, 7-Eleven said.
It said that the drone delivery service could relieve a shortage of goods in places where deliveries are difficult to make, while improving drone delivery technology.
Comments will be moderated. Keep comments relevant to the article. Remarks containing abusive and obscene language, personal attacks of any kind or promotion will be removed and the user banned. Final decision will be at the discretion of the Taipei Times.