Cabinet rebuts claims of nepotism at digital ministry
Candidates to work at the Ministry of Digital Affairs would not be selected based on their personal ties with other government officials, the Executive Yuan said yesterday.
The ministry, which was officially established yesterday, is planning to hire 300 contract workers, and the process would be in line with government regulations, the Cabinet added.
The statement came after Taiwan People's Party (TPP) Legislator Tsai Pi-ru (蔡壁如) on Facebook asked why the ministry chose to hire contract workers instead of using other employment arrangements.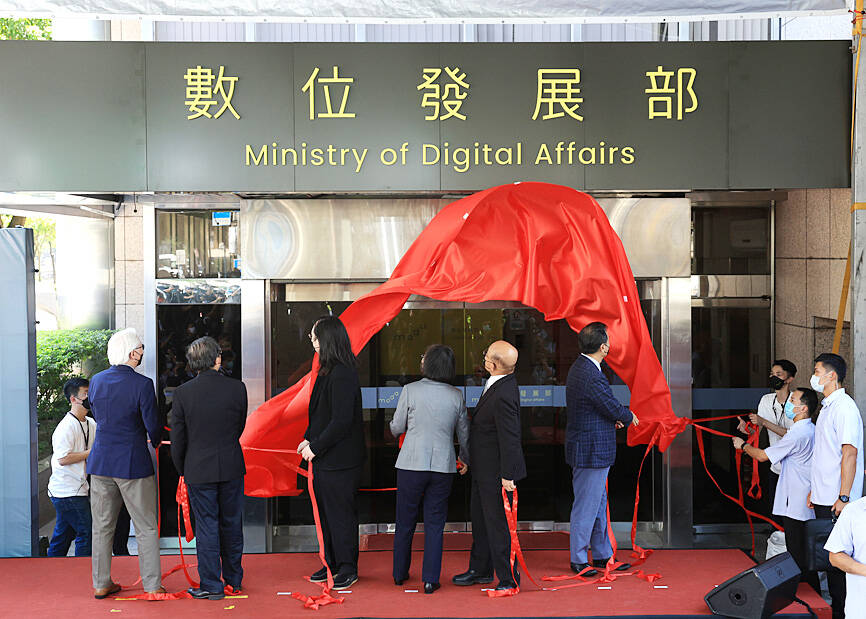 President Tsai Ing-wen, third right, Premier Su Tseng-chang, second right, and others attend the inauguration ceremony for the Ministry of Digital Affairs in Taipei yesterday.
Photo: CNA
"Diversifying employment channels is a pretty phrase, but who would know if the move is to benefit affiliates or relatives of [government] employees," Tsai said.
A Democratic Progressive Party (DPP) official, speaking on condition of anonymity, said that half of the ministry's staff would be contract workers.
The ministry chose this arrangement as it was stipulated by a draft version of what was later passed as the Organization Act of the Administration for Cyber Security, Ministry of Digital Affairs (數位發展部資通安全署組織法), the DPP official said, adding that the draft was introduced by a group of lawmakers, including two from the TPP, Anne Kao (高虹安) and Tsai.
The source said that the draft stipulated that the ministry should diversify its employment methods and seek to hire talent from the digital technology industry to ensure that Taiwan retains an edge in technological competition.
The draft said that no more than half of the ministry's employees should be contract workers, citing the Regulations on Hiring Contract Employees (聘用人員聘用條例).
The legislature last year passed the organization act of the ministry alongside two related pieces of legislation — the Organization Act for the Ministry of Digital Affairs' Information Security Bureau (數位發展部資通安全署組織法) and the Organization Act for the Ministry of Digital Affairs' Digital Industry Bureau (數位發展部資通安全署組織法).
The legislation allows the ministry and the two bureaus under its administration to each hire up to 100 contract workers.
The source said they do not understand why Tsai first introduced a draft act that allows the ministry to hire contract workers, but then said that such arrangements are illicit.
Premier Su Tseng-chang (蘇貞昌) told reporters that the ministry's hiring practices would be in line with the law.
Former minister without portfolio Audrey Tang (唐鳳) is to head the ministry, and the proposed budget for the ministry is NT$5.7 billion (US$188.6 million) for next year, or 0.2 percent of the government's overall budget.
With additional funding from the Forward-looking Infrastructure Development Program, the ministry's overall budget would be NT$21.8 billion.
Comments will be moderated. Keep comments relevant to the article. Remarks containing abusive and obscene language, personal attacks of any kind or promotion will be removed and the user banned. Final decision will be at the discretion of the Taipei Times.