Police issue nationwide alert after two officers killed
AT LARGE: The officers were found with wounds likely caused by a machete or broad knife. The suspect is believed to have one of their guns
A nationwide alert has been issued to apprehend a man suspected of killing two police officers in Tainan yesterday.
The two officers, from Tainan Second Precinct's Minchuan Police Station, were Tu Ming-cheng, 36, and Tsao Jui-chieh (曹瑞傑), 27, Tainan City Police Chief Fang Yang-ning (方仰寧) told a news conference yesterday afternoon.
Yesterday morning, they responded to a report of a stolen red motorcycle, and took off in a police cruiser in pursuit of the suspect, Chen Wei-chieh (陳偉捷), 25, Fang said.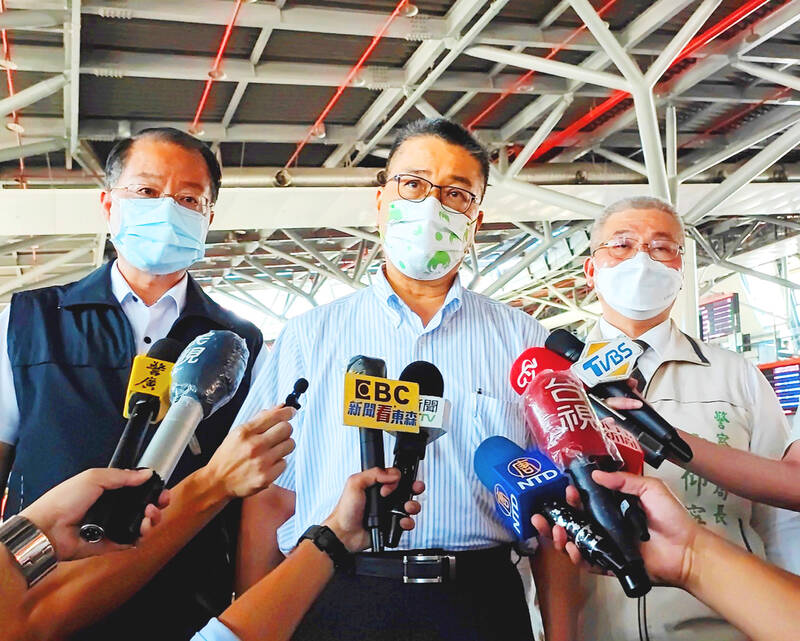 Minister of the Interior Hsu Kuo-yung, center, speaks to reporters at the Taiwan High Speed Rail's Tainan Station yesterday.
Photo: Wu Chun-feng, Taipei Times
Another officer from the station followed on a motorcycle, and placed an emergency call after finding his colleges lying on the ground bleeding near a public cemetery in Tainan's Annan Disctrict (安南), Fang said, adding that the cruiser's doors were open and had bullet holes in them.
Medics found both officers with numerous lacerations on their necks and bodies. One had no vital signs, while the other was declared dead after being rushed to hospital.
The stolen motorcycle was found abandoned at a local high school about 1km from the cemetery.
The officers' wounds were likely caused by a machete or broad knife, officials said.
Chen is stocky and about 175cm tall. He is a Tainan resident and has a criminal record that includes theft, drug trafficking and fraud.
Officials said the suspect is likely still in the Tainan area, and if officers receive a tip regarding his whereabouts, they must arm themselves and wear protective gear, as he has a police handgun in his possession.
Tu, as the senior officer, had been carrying a handgun, and his empty holster belt was found on the ground, indicating that Chen had taken the handgun and the bullets, Fang said.
"Tu had 24 bullets on him, while six spent shells were found at the site. Therefore the suspect must still have 18 rounds," Fang said, adding that someone shot at the cruiser, which had four bullet holes, and there was blood inside the vehicle.
Fang said the suspect might have had accomplices, and investigators need to verify whether he fatally wounded the officers or shot the bullets.
Upon learning of the attack, Minister of the Interior Hsu Kuo-yung (徐國勇), together with National Police Agency Director-General Huang Ming-chao (黃明昭), took the high-speed rail to Tainan to coordinate the search and investigation.
"We very much regret this incident... The suspect is at large, and he has taken an officer's handgun. We have asked all officers to prioritize their own safety... If the suspect resists, officers should not hesitate to use their firearms," Hsu said.
"We want to express our sadness ... and offer condolences to the families of the two officers. Both of them are younger than my own children," Hsu added.
Comments will be moderated. Keep comments relevant to the article. Remarks containing abusive and obscene language, personal attacks of any kind or promotion will be removed and the user banned. Final decision will be at the discretion of the Taipei Times.