Breakthroughs made in Cambodian smuggling cases
MULTIPLE CHARGES: A number of people with alleged ties to trafficking rings were arrested, including a travel agent who helped procure passports and air tickets
Judicial investigators have identified criminal gangs involved in trafficking Taiwanese to Cambodia, with the cooperation of Thai authorities in repatriating those affected and bringing Taiwanese leaders of smuggling operations home to face charges.
Criminal Investigation Bureau (CIB) officials provided details of their investigations into the Bamboo Union and Heavenly Way Alliance gangs, along with crime groups based in New Taipei City, Taoyuan, Hsinchu and Taichung.
A man surnamed Yang (楊) was repatriated from Thailand and detained after questioning, as he had been accused of leading a smuggling ring in Taichung, the CIB said.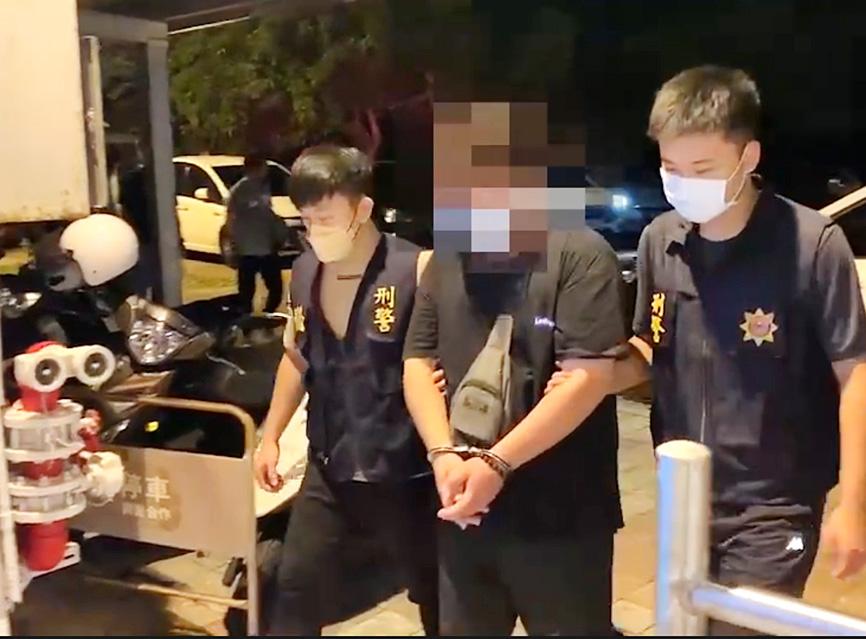 Taichung police officers yesterday escort a suspect surnamed Chiu who is suspected of being involved in human trafficking.
Photo: CNA
Yang helped apply for permits and escorted people who had been promised jobs to flights out of Taiwan, alleged victims told the CIB.
Upon landing in Cambodia, they were handed to Chinese gang members and forced to work in telecoms scam operations, the CIB said.
Prosecutors said Yang was suspected of international human trafficking, and that their investigations showed he had been convicted on narcotics and fraud charges, and was involved in organized crime in Taichung.
Separately, Taichung police said they arrested a couple surnamed Chiu (邱) and Chang (張) who are suspected of leading an operation to send people to Cambodia on fraudulent promises of clerical jobs that would pay NT$100,000.
The couple helped an alleged victim surnamed Wang (王) obtain a passport, air ticket and other documents for herself and another person to enter Cambodia last month, police said.
The other alleged victim escaped and returned to Taiwan on July 17, while Wang's family has not been able to contact her, they said, adding that the CIB is investigating to determine where Wang is being held.
Chiu and Chang's accounting ledgers and five mobile phones with communications records were seized in raids, police said.
Chiu and Chang are to be changed with contravening the Human Trafficking Prevention Act (人口販運防制法) and the Organized Crime Prevention Act (組織犯罪防制條例), police said, adding that accomplices are being sought.
Meanwhile, Taoyuan police said they have arrested four people suspected of working in an "airport transport team" for human trafficking rings in Taiwan.
Taoyuan prosecutors found that one of the four, a woman surnamed Chen (陳), was a professional travel agent who was recruited to help procure passports, order air tickets and arrange transport to Taiwan Taoyuan International Airport, where she allegedly advised the outbound travelers on how to answer questions at customs upon arrival in Cambodia.
Chen faces charges of aiding human trafficking operations, along with producing "fraudulent means to cause another person to leave the country," as stated in Article 297 of the Criminal Code.
Conviction carries a sentence of three to 10 years.
In another case in Taoyuan, police arrested a man surnamed Hu (胡) for allegedly working with a human trafficking operation that tried to send four Taiwanese to Cambodia.
Police said family members called them for help, reporting that Hu promised people jobs abroad that paid exorbitant wages.
Hu is likely to be charged with contravening the Human Trafficking Prevention Act and Article 297 of the Criminal Code, prosecutors said, adding that he is likely a member of a larger traffickng ring and other suspects are being sought.
Comments will be moderated. Keep comments relevant to the article. Remarks containing abusive and obscene language, personal attacks of any kind or promotion will be removed and the user banned. Final decision will be at the discretion of the Taipei Times.