Cap on dentistry interns with foreign degrees urged
The Taiwan Dental Student Association yesterday criticized an amendment to the Physicians Act (醫師法), saying that it would allow too many aspiring dentists with foreign degrees to travel to Taiwan for internships.
The association said the number of slots for interns with foreign degrees should not be raised, but instead be capped at 10 percent of the number of students admitted at Taiwanese dentistry departments.
The Legislative Yuan passed the amendments and its seven attached resolutions at the end of May.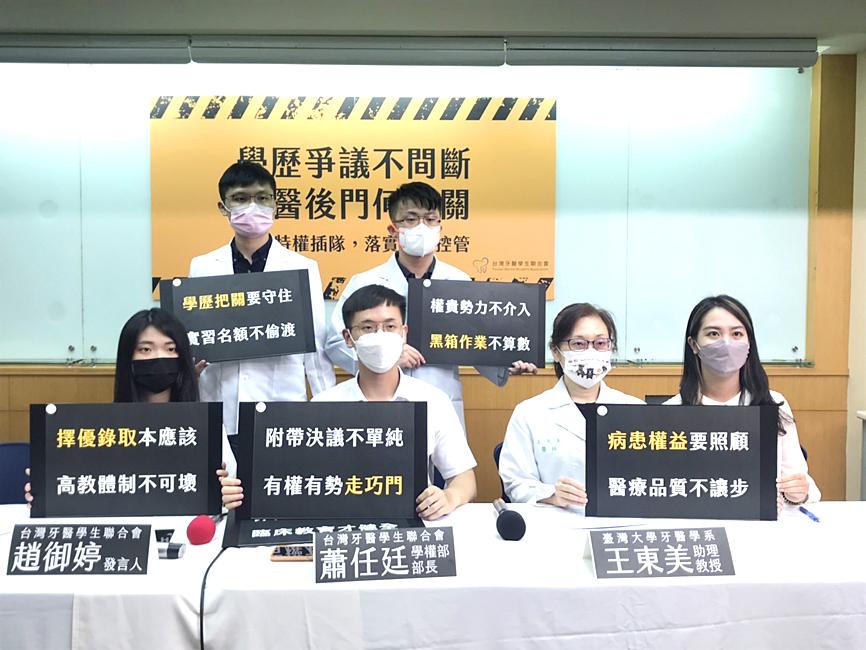 Members of the Taiwan Dental Student Association hold placards at a news conference in Taipei yesterday.
Photo: Yang Mien-chieh, Taipei Times
The amended act stipulates that holders of foreign degrees — obtained outside nine designated countries or areas — would have to seek approval of their education records from the Ministry of Education before they can take an exam that would qualify them to work as doctors in Taiwan.
Chris Hsiao (蕭任廷), head of the association's student rights department, said wealthy families would increasingly send their children to study in countries exempt from the requirement.
Only 6 percent of those who seek approval by the ministry are allowed to participate in the professional exam, he added.
About 600 aspiring dentists holding foreign degrees enter Taiwan every year, while local dentistry departments only admit about 400 students annually, he said.
Association spokesperson Chao Yu-ting (趙御婷) said some foreign universities have low admission criteria and admit all applicants willing to pay their fees regardless of high-school grades or English-language ability.
Some graduates of foreign programs who claimed to have "completed a dental internship" were unable to perform a root canal treatment, she added.
The National Health Research Institute's target is that there is one dentist per 2,000 people, but the ratio is currently much lower, Taiwan Dental Association member Chen Chi-hung (陳麒鴻) said.
However, raising that ratio would not be in the interest of patients and doctors, Chen said.
A Taipei Dental Association survey showed that 97 percent of dentists in Taipei support capping the number of practitioners and 96 percent of them are against the resolutions.
More than half of aspiring dentists assigned to internship positions at branches of Taipei City Hospital hold foreign degrees, dentist Huang Huan-yuan (黃煥元) said, calling the ratio too high.
The branches only specialize in one or two of the 10 fields of dentistry, and some employ no dentists with government-approved specialist certificates, he said.
Those branches cannot offer comprehensive internships, he added.
Wang Tong-mei (王東美), an assistant dentistry professor at National Taiwan University, said offering too many internships to holders of foreign degrees might overwhelm the education system and affect the quality of training offered in Taiwan.
Even if the system can accommodate more interns, the government should provide opportunities to those who studied in Taiwan to protect dental education in the country and nurture domestic talent, she added.
Comments will be moderated. Keep comments relevant to the article. Remarks containing abusive and obscene language, personal attacks of any kind or promotion will be removed and the user banned. Final decision will be at the discretion of the Taipei Times.