All military aircraft, except F-5 jets, to resume operations
All military aircraft, except F-5 jets, would resume operations before Thursday, after being grounded in the wake of a fatal crash last week, air force Chief of Staff Huang Chih-wei (黃志偉) said yesterday.
Yesterday and today, the air force's combat, surveillance and transport aircraft would be resuming flights, including F-16s, Mirage 2000-5s, Indigenous Defense Fighter jets, C-130H Hercules aircraft and P-3C Orions, Huang said at a press event in Taipei.
According to the Ministry of National Defense, all military aircraft have been grounded for safety checks, except those on guard or combat readiness missions, after two F-5E jets on Monday last week collided mid-air during a training mission off the coast of Pingtung County.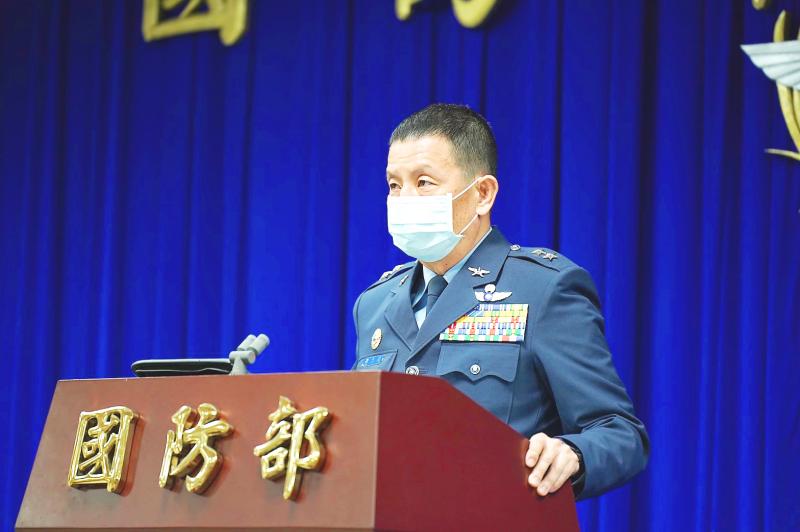 Air force Chief of Staff Huang Chih-wei speaks at a news conference held by the Ministry of National Defense yesterday.
Photo: Tu Chu-min, Taipei Times
F-5 jets would remain grounded until Tuesday or Wednesday next week, pending safety checks, and pilot training and psychological counseling, Huang said.
Taiwan's fleet of 43 F-5s comprises single-seat F-5Es and twin-seat F-5Fs.
Huang said that the search is still on for Captain Pan Ying-chun (潘穎諄), one of the pilots involved in the collision.
Pan is believed to have ejected from his aircraft, as did Lieutenant Lo Shang-hua (羅尚樺), who was flying the other plane and was found at sea on the day of the crash, but was pronounced dead after being taken to hospital.
A search and rescue team of 300 people has found some personal gear and aircraft debris, Huang added.
Comments will be moderated. Keep comments relevant to the article. Remarks containing abusive and obscene language, personal attacks of any kind or promotion will be removed and the user banned. Final decision will be at the discretion of the Taipei Times.