New CPBL head eyes expansion
LOVE FOR BASEBALL: Finding a corporation with the money and passion to sponsor a team would not be easy, but interest was brewing in Kaohsiung, Tsai said
Deputy Legislative Speaker Tsai Chi-chang (蔡其昌), who is to takeover as head of the Chinese Professional Baseball League (CPBL), on Thursday said he would add a sixth team to the league.
Tsai made the remarks after he was tapped to head the organization when CPBL commissioner John Wu (吳志揚) finishes his second term next month.
Tsai's position was confirmed on Thursday when top executives of the CPBL's five teams met with Tsai at his office at the Legislative Yuan in Taipei, later emerging with smiles after reaching an agreement for him to take the post.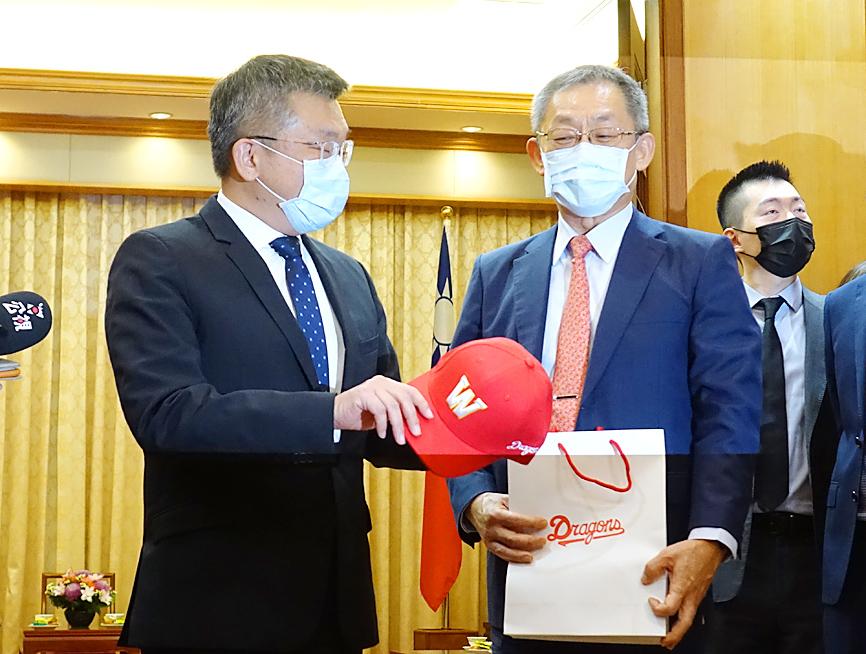 Wei Chuan Dragons chairman Hsu Wen-fang, right, on Thursday hands Deputy Legislative Speaker Tsai Chi-chang a baseball cap with the team logo as a delegation from the Chinese Professional Baseball League visited the Legislative Yuan in Taipei.
Photo: Wang Yi-sung, Taipei Times
It comes with no salary, and is largely a ceremonial position. As commissioner, Tsai would be responsible for league operations, attending international meetings, planning and overseeing staff's day-to-day work.
Tsai outlined his vision for the league, saying that finding corporate backers to start a sixth team was a top priority.
The CPBL is comprised of the Uni-President Lions, CTBC Brothers, Fubon Guardians and Rakuten Monkeys, with the Wei Chuan Dragons set to join next season.
The Dragons, started in 1989, were one of the four founding teams in the league before they disbanded in 1999.
"All five clubs and Taiwan fans are in full support of the league expanding to a sixth team, which could join in the coming years," Tsai said. "Then the CPBL can grow more vigorously, and have different combinations for game matchups."
However, Tsai said he knows it would not be easy.
"The CPBL in the past decade has operated with four teams, and waited a long time to welcome the Wei Chuan Dragons back. It can be difficult to find a big corporation in Taiwan willing to invest in pro baseball, as its executives must have a passion for the game, and deep pockets to sustain a team," he said.
A Democratic Progressive Party legislator with his base in Taichung, Tsai yesterday received hopeful news from his fellow party member and Kaohsiung Mayor Chen Chi-mai (陳其邁), who confirmed speculation that several Kaohsiung-based businesses were showing interest in sponsoring a team to enter the league in the next few years.
"We have a large manufacturing base in Kaohsiung, with large companies for financial support, and can look for other businesses to participate in a team's launch with sponsorship. We will take it one step at a time, but the talk of getting back to pro baseball has been a hot discussion in our city for some time," Chen said.
Comments will be moderated. Keep comments relevant to the article. Remarks containing abusive and obscene language, personal attacks of any kind or promotion will be removed and the user banned. Final decision will be at the discretion of the Taipei Times.