Control Yuan probing fishery abuse complaints
GREENPEACE REPORT: A December 2019 report raised questions about the actions, or lack of them, by local agencies, two Control Yuan members have said
Two Control Yuan members have announced an investigation into government agencies for alleged leniency toward two Taiwanese-owned fishing boats accused of abusive labor practices toward migrant fishermen.
Wang Mei-yu (王美玉) and Wang Yu-ling (王幼玲) said in a press release on Friday that their investigation was triggered by a report by Greenpeace Southeast Asia in December last year that recounted the alleged use of forced labor, including excessive overtime, physical abuse and withholding of wages, against migrant fishermen on several distant-water fishing vessels, including two that are Taiwanese-owned.
An investigation is needed to determine whether leniency by local agencies was involved, they said.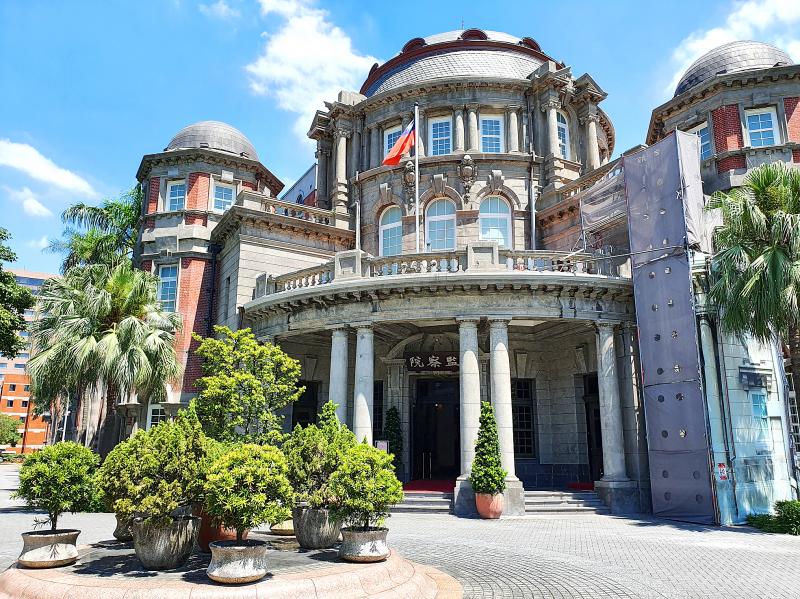 The entrance to the Control Yuan in Taipei is pictured on June 17.
Photo: Hsieh Chun-lin, Taipei Times
They also said that the government needs to come up with a viable solution to the issue of flag-of-convenience (FOC) vessels, which are often found to take part in illegal, unreported and unregulated fishing, as well as forced labor or human trafficking.
Seabound: The Journey to Modern Slavery on the High Seas included testimonials from several Indonesian fishers who had worked on the Da Wang (大旺) and Chin Chun 12 (金春12), in which they described working conditions aboard the Taiwanese boats as inhumane.
They said that their work hours were different from those specified in their contracts and that they had not been paid the specified wages.
The report said the Da Wang is owned by Yong Feng Fishery Co, while the Chin Chun 12 is owned by Sheng Sheng Fishery Co, but both are FOC ships that are registered in Vanuatu.
Greenpeace Southeast Asia said the companies and individuals linked to the vessels named in the complaints had denied inhumane treatment of crews.
The Fisheries Agency on April 9 said that it had forwarded some cases based on the report to the Kaohsiung District Prosecutors' Office for investigation.
It "does not tolerate the occurrence of violence and physical abuse aboard fishing vessels, and in the event any abuse or violence involving human trafficking is reported, the Fisheries Agency of Taiwan will forward such cases to the prosecutors' office with jurisdiction. If any violation is confirmed, the Fisheries Agency will impose sanctions on the offenders accordingly," it said.
Nevertheless, a Greenpeace Southeast Asia press release on June 2 said the two ships were still able to leave Taiwanese ports in May, despite the allegations against them.
It also said that three migrant fishermen from the Philippines aboard the Da Wang and Chin Chun 12 had reached out to the Foreign Fisher Human Rights Protection Alliance for help after their boats returned to Kaohsiung in April.
They said they had been treated inhumanely while at sea, echoing the situation described in the December report.
Greenpeace called on the government to abolish the FOC system to improve Taiwan's fisheries management.
Comments will be moderated. Keep comments relevant to the article. Remarks containing abusive and obscene language, personal attacks of any kind or promotion will be removed and the user banned. Final decision will be at the discretion of the Taipei Times.