New envoy to US faces challenges in improving bilateral ties: academic
Several areas of Taiwan-US relations would require improvement after National Security Council member Hsiao Bi-khim (蕭美琴) takes over as representative to the US, an academic said yesterday, citing China's continuous military intimidation of Taiwan.
Although the fundamentals of Taiwan-US relations appear to be in good shape, some areas still need "more delicate communication," such as finding a solution to China's continuous harassment of other countries in the region and its military intimidation of Taiwan, Taiwan Think Tank consultant Lai I-chung (賴怡忠) said.
The two sides should also discuss how their militaries can cooperate more closely and how Taiwan should respond to US expectations of national defense reform, Lai added.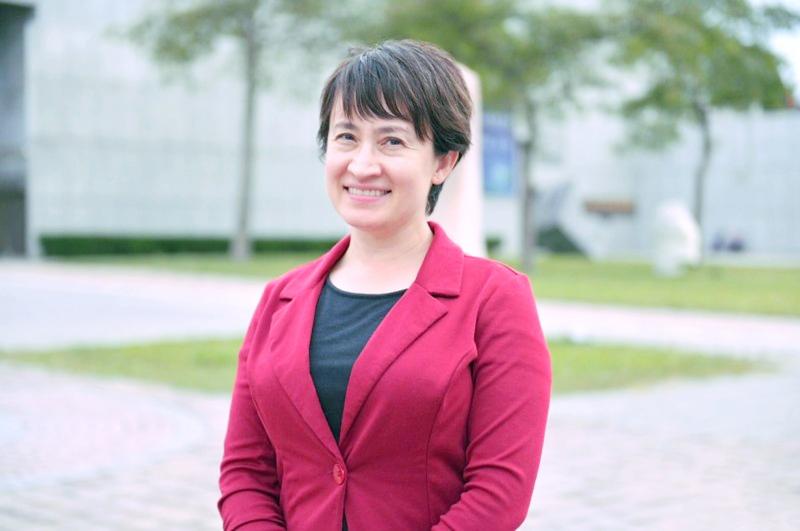 National Security Council adviser Hsiao Bi-khim is pictured in an undated photograph. The Presidential Office on June 15 announced Hsiao's appointment as the nation's representative to the US.
Photo: Lu Yi-hsuan, Taipei Times
Hsiao, a former Democratic Progressive Party (DPP) legislator, has been appointed by President Tsai Ing-wen (蔡英文) as the nation's de facto ambassador to the US, becoming the first woman to ever serve in the post.
However, the dates of her departure to the US and the beginning of her official duties have yet to be disclosed.
As the US is to hold its presidential election in November, Taiwan should strive to prevent any major shifts in bilateral relations in the event of a change in the US administration, Lai said.
DPP Legislator Wang Ting-yu (王定宇) said that the US Congress during the administration of US President Donald Trump has passed numerous acts friendly toward Taiwan, such as the Taiwan Travel Act and the National Defense Authorization Act for fiscal year 2020.
However, "closer ties between the two nations in recent years have been based on the passage of laws, lacking executable items that yield concrete results," Wang said, adding that utilizing opportunities through the legislation is key to achieving breakthroughs in bilateral relations.
Taiwan-US relations could alter drastically in the near term in the face of multiple challenges and opportunities, such as economic problems caused by the COVID-19 pandemic and the changing US-China relations, Hsiao said on Facebook on June 18, two days after her appointment.
Pressing matters that need to be handled include stalled progress on bilateral free-trade agreements and talks under the Trade and Investment Framework Agreement, observers have said.
Taiwan's ban on imports of US pork containing ractopamine and some beef products should also be addressed via practical means, they said.
Comments will be moderated. Keep comments relevant to the article. Remarks containing abusive and obscene language, personal attacks of any kind or promotion will be removed and the user banned. Final decision will be at the discretion of the Taipei Times.