China's TAO lauds Han as tour groups resumed
China's Taiwan Affairs Office spokesman Ma Xiaoguang (馬曉光) yesterday praised Kaohsiung mayor-elect Han Kuo-yu's (韓國瑜) acceptance of the so-called "1992 consensus," calling it imperative for Taiwan's well-being.
Speaking at a news conference in Beijing, Ma emphasized city-to-city interactions rather than relations between central governments, saying he welcomed cross-strait exchanges on the basis of "proper understanding."
The exchanges would promote "mutual love and well-being for compatriots on both sides of the Taiwan Strait," he said.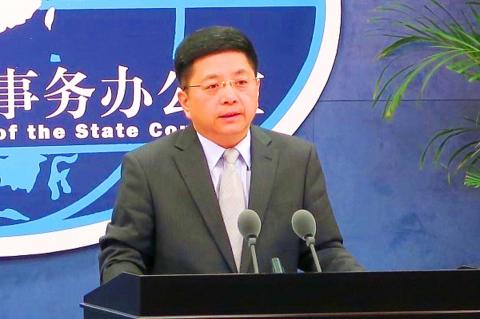 China's Taiwan Affairs Office spokesman Ma Xiaoguang speaks at a news conference in an undated photograph.
Photo: CNA
The peaceful development of cross-strait relations would bring both sides concrete benefits, which would include economic, cultural and other types of exchanges, he said.
Ma said Kaohsiung was already beginning to see the benefits of good cross-strait ties, citing the relaunch of Chinese group tour visits to the city on Tuesday.
Ma accused the Democratic Progressive Party (DPP) of "obstructing good cross-straight relations for years, to the detriment of Taiwanese."
The earlier the obstructions were "introduced by the DPP," the greater the effect they have had on "Taiwanese compatriots," he said.
The Chinese Communist Party hopes that the livelihood of Taiwanese would be improved more easily through economic development, he said.
In July, Taichung lost the right to host the first East Asian Youth Games, originally set to be held in August next year, due to pressure from China.
Taichung mayor-elect Lu Shiow-yen (盧秀燕), who also acknowledges the "1992 consensus," said she would endeavor to have the Games reinstated.
Local media have raised the question of whether China would agree to the city hosting the Games, now that a referendum to change the national team's name from "Chinese Taipei" to "Taiwan" was rejected on Saturday.
China had originally objected to Taichung hosting the Games on the basis that Taiwanese groups were calling for the name change.
"The failure of the referendum shows that gambling with the rights of athletes will not receive popular support and shows that moves toward Taiwanese independence are doomed to fail," Ma said.
Ma said the decision to reinstate the city's right to host the Games ultimately rests with the East Asian Olympic Committee.
The "1992 consensus," a term former Mainland Affairs Council chairman Su Chi (蘇起) admitted making up in 2000, refers to a tacit understanding between the Chinese Nationalist Party (KMT) and the Chinese government that both sides of the Taiwan Strait acknowledge that there is "one China," with each side having its own interpretation of what "China" means.
Comments will be moderated. Keep comments relevant to the article. Remarks containing abusive and obscene language, personal attacks of any kind or promotion will be removed and the user banned. Final decision will be at the discretion of the Taipei Times.