People face fines for making trivial ambulance calls
People face fines of between NT$600 and NT$1,800 for calling for an ambulance after sustaining minor injuries or over minor ailments, Ministry of the Interior statistics showed.
The 10 administrative regions that have fines for people who call an ambulance when they are not in need of emergency medical care are Taipei, Taoyuan, Taichung, Kaohsiung, Hsinchu County, Hsinchu City, Miaoli County, Chiayi City, Pingtung County and Hualien County, with fines in Taipei the highest at NT$1,800 and lowest in Hsinchu City at NT$600.
Ambulances nationwide were dispatched more than 1.1 million times last year, a daily average of 3,015, ministry statistics showed. While that was a slight decrease from more than 1.11 million in 2016, it was more than three times the 336,409 in 1998.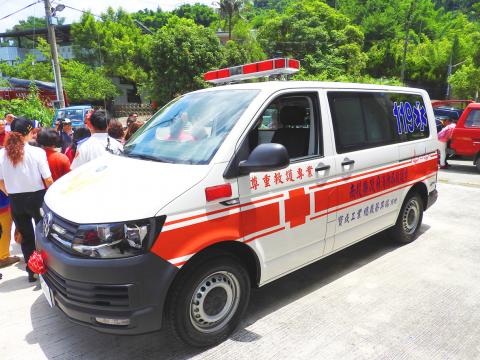 An ambulance used by the Nantou County Government Fire Station is parked in Nantou County's Guosing Township on July 28.
Photo: Tung Chen-kuo, Taipei Times
The most common reason for ambulance calls last year was traffic accidents, with 330,725, or 37.1 percent, such instances, followed by the onset of acute syndromes at 320,221, or 35.9 percent, the statistics showed.
External injuries and injuries sustained from falls accounted for 91,630, or 10.28 percent, of ambulance calls last year, they showed.
Examples of acute syndromes include acute headaches or vertigo, facial numbness or paralysis, chest pains, back pains, asphyxiation, unconsciousness, intense hemorrhaging and large burns, the ministry said, adding that people in such situations need an ambulance.
People who fall asleep on a roadsides after drinking; sustain light injuries from traffic accidents; require hospitalization; or have a toothache, a cold, a sprain or cuts should be taken to seek medical care without calling an ambulance, it said.
National Fire Agency Chief Secretary Feng Chun-yi (馮俊益) said that the agency would step up communication with the 12 local governments that do not have fines in place for improper ambulance calls as part of its effort to curb misuse of the healthcare system.
Comments will be moderated. Keep comments relevant to the article. Remarks containing abusive and obscene language, personal attacks of any kind or promotion will be removed and the user banned. Final decision will be at the discretion of the Taipei Times.