Hundreds protest commissioner axing
HUALIEN OVERHAUL: The Executive Yuan said it does not have a replacement for Fu Kun-chi, but would choose someone soon, as Typhoon Mangkhut is approaching
Hundreds of people yesterday gathered in front of the Hualien County Government's auditorium to protest the Executive Yuan's decision on Wednesday to dismiss Fu Kun-chi as county commissioner.
Addressing the protest, Fu said that the ruling was "unjust and illegal," and called on his supporters and county residents to band together and help elect Chinese Nationalist Party (KMT) commissioner candidate Hsu Chen-wei (徐榛蔚), who is his wife, in November.
Fu accused the judge and clerk at the Taiwan High Court's Taichung branch of altering his affidavit and failing to observe proper court procedure by neglecting to state the basis on which the court found him guilty during his oral argument.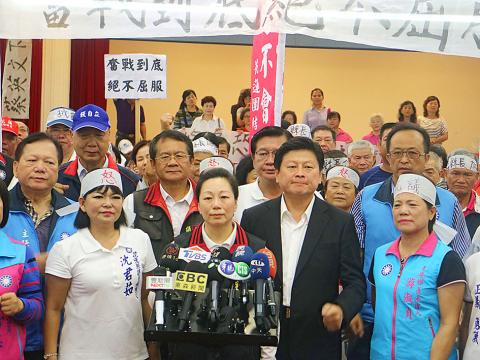 Former Hualien County commissioner Fu Kun-chi, front second right, is joined by supporters at the county government auditorium yesterday.
Photo: Wang Chin-yi, Taipei Times
The Control Yuan last month censured the court after if found that there was a discrepancy between the court transcript and the court recording, Fu said.
The Supreme Court should have remanded the case to the second appellate court for a retrial instead of upholding the ruling, Fu said.
Fu apologized to his supporters for failing to see through his term and being unable to help prepare for Typhoon Mangkhut.
The Ministry of the Interior at 10:50am yesterday issued official notice of Fu's dismissal to the county government.
In accordance with Article 56, Subparagraph 3 of the Local Government Act (地方制度法), Deputy Commissioner Tsai Yun-huang (蔡運煌) and all county government employees appointed by Fu are to be dismissed as well, Hualien County Personnel Office Director Wang Wei-hsi (王偉曦) said.
Despite the late delivery of the official notice, the dismissals took effect on Wednesday, Wang said.
Papers on the dismissal of county government officials would be mailed out by tonight at the latest, Wang said.
The Executive Yuan as of yesterday morning did not have a specific person in mind to appoint as acting commissioner, spokeswoman Kolas Yotaka said, adding that it would appoint a candidate as soon as possible, as Mangkhut was picking up strength.
Comments will be moderated. Keep comments relevant to the article. Remarks containing abusive and obscene language, personal attacks of any kind or promotion will be removed and the user banned. Final decision will be at the discretion of the Taipei Times.