AIT denies visa denial for Hualien official is political
STANDARD PROCEDURE: Applicants for a US visa must prove that they have been cleared in all cases brought against them with papers in English, the institute said
The American Institute in Taiwan (AIT) yesterday denied any political motivation for requesting that Hualien County Commissioner Fu Kun-chi (傅崐萁) present English translations of documents relating to legal cases he has been embroiled in as part of his request for a US visa.
Consulate personnel do not take the political affiliation of applicants seeking US visas into consideration, but they do require a record of any criminal charges brought in Taiwan or the US, AIT spokesperson Amanda Mansour said when asked about Fu's claim that he had been denied a visa on political grounds.
Fu was denied a visa because he failed to present the required documents, the AIT said.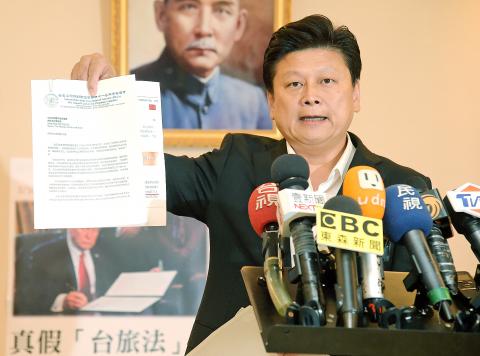 Hualien County Commissioner Fu Kun-chi yesterday holds up an invitation to an event in the US at a news conference in Taipei, where he said that the American Institute in Taiwan turned down his visa application for political reasons.
Photo: Huang Yao-cheng, Taipei Times
"All visa applicants are equal under the law," Mansour said. "Those who have criminal charges in the United States or Taiwan must provide documentation that those charges have been cleared before being issued a visa."
Earlier in the day Fu told a news conference in Taipei that he had been scheduled to fly to the US on Aug. 25 to forge sister city ties with Temple City, California, but on Aug. 22 the AIT asked him to submit English translations of documents on all legal cases involving him over the past 20 years.
Fu, a former member of the Chinese Nationalist Party (KMT) who is now an independent, said that the request was not justified and accused the US of interfering in Taiwan's domestic affairs.
The Democratic Progressive Party government was collaborating with the US to "oppress" him, he said.
The AIT processes tens of thousands of visa applications and requesting translated criminal records is standard procedure, Mansour said.
"Generally, such documentation must be provided in English," she said. "Visa officers do not ask about or consider political affiliation when adjudicating visa applications."
She also advised that potential US visa applicants refer to the AIT Web site for eligibility requirements for different types of visas.
Comments will be moderated. Keep comments relevant to the article. Remarks containing abusive and obscene language, personal attacks of any kind or promotion will be removed and the user banned. Final decision will be at the discretion of the Taipei Times.