Groups call for probe into police violence in Daguan
A coalition of groups opposed to forced evictions yesterday rallied outside the Control Yuan to call for an investigation into two demonstrations at which protesters were allegedly beaten up and confined to designated areas by police.
At demonstrations on Thursday and Friday by residents of New Taipei City's Daguan (大觀) community, police abused their power by taking unnecessarily violent measures and restricting protesters' freedom, Taiwan Association for Human Rights policy director Shih Yi-hsiang (施逸翔) said.
During Thursday's demonstration outside the National Housing and Regeneration Center in Taipei, where President Tsai Ing-wen (蔡英文) attended a ceremony, protesters were violently dragged 200m to an area bordered by barricades and police officers after being told once to disperse, the protesters' letter to the Control Yuan said.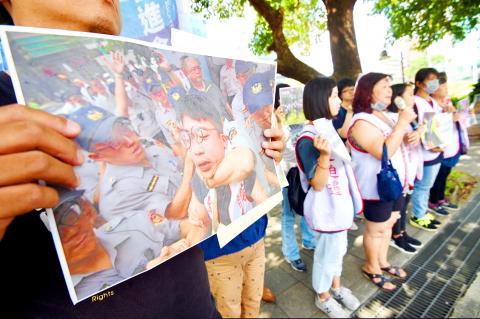 Members of the Taiwan Association for Human Rights hold photographs yesterday outside the Control Yuan in Taipei at a rally against alleged excessive use of force by the police against protesters during President Tsai Ing-wen's nationwide tour.
Photo: Peter Lo, Taipei Times
They were forced to stay in the barricaded area, which the police described as a "protest zone," and prevented from going to the restroom for two hours, the letter said.
Several who tried to leave were slapped in the face, pushed to the ground or kicked in the stomach by police guarding the area, it said.
The police also prevented them from drinking water, said Lin Yen-yu (林燕玉), a Daguan resident who took part in the protest.
"We would not be protesting on the street if we did not need to. We are only doing it because the government is evicting us from our homes," she said. "The government is making life so difficult for us."
Daguan residents are facing forced eviction after losing an extended legal battle with the Veterans Affairs Council over land rights in 2014.
During Saturday's protest, held outside New Taipei City's Jiangcui Elementary School two hours before a Democratic Progressive Party campaign event featuring Tsai was to begin, protesters were dragged away, put in police cars and prevented from leaving, the letter said.
Emily Chen, 10, said that police ignored requests to let her go to a restroom and to turn down the car's air conditioner, despite her being wet from the rain and feeling cold.
According to Article 3 of the Police Power Exercise Act (警察職權行使法), police should exercise their power only to the extent necessary, the association's legal specialist Wang Si (王曦) said.
By restricting protesters' freedom without a proper reason, the police violated the act, as well as the International Covenant on Civil and Political Rights and the International Covenant on Economic, Social and Cultural Rights, Wang said.
To prevent police from abusing their powers and to better protect the public's right to demonstrate and rally, the Control Yuan should investigate the two cases, Shih said.
"If no individual officers are identified, then their supervisor should be held responsible, whether they are head of a police department or the National Police Agency — or the minister of the interior," Shih added.
Comments will be moderated. Keep comments relevant to the article. Remarks containing abusive and obscene language, personal attacks of any kind or promotion will be removed and the user banned. Final decision will be at the discretion of the Taipei Times.