Lai defends inaction on Olympics drive
BOUND BY AGREEMENTS: The premier said that he would limit his engagement in line with a DPP resolution and the Lausanne Agreement in the interest of Taiwan's athletes
As criticism from pro-Taiwan independence groups over the Democratic Progressive Party (DPP) government's handling of a referendum on the national team's name at the 2020 Tokyo Summer Olympics mounts in cyberspace, Premier William Lai (賴清德) yesterday defended his commitment to a pragmatic approach to Taiwanese independence.
An alliance of civic groups has initiated a referendum drive on renaming the national sports team from "Chinese Taipei" to "Taiwan" at the Tokyo Olympics and other competitions.
The DPP government's perceived lack of support for the referendum has prompted charges that Lai is foxi (佛系) about Taiwanese independence, a Chinese Internet slang term referring to Buddha-like passivity and indifference toward a goal.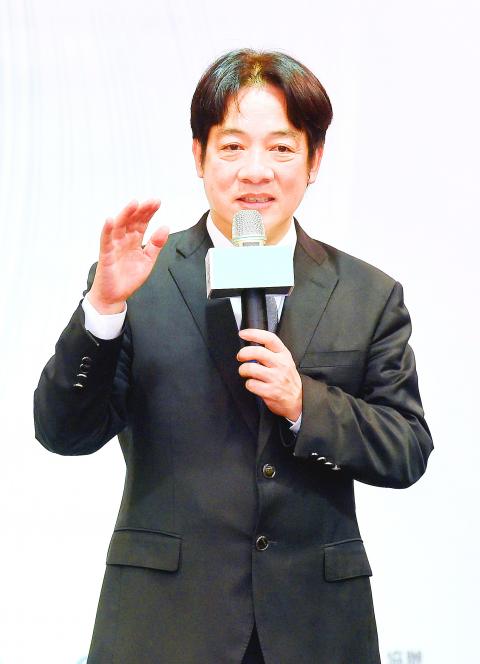 Premier William Lai speaks at an event in Taipei on Tuesday last week.
Photo: Chu Pei-hsiung, Taipei Times
Quoting Lai's description of himself as a "political worker for Taiwanese independence" when he fielded questions from lawmakers at the Legislative Yuan in September last year, a group of pro-localization organizations last month called for Lai to lend his support to the proposed referendum.
In an interview yesterday with Web-based Yahoo TV, Lai said that Taiwanese independence through pragmatism is derived from and defined by the DPP's "Resolution on Taiwan's Future" ratified in 1999.
The resolution states that Taiwan is a sovereign and independent nation named the Republic of China (ROC) that is neither a subordinate of China, nor seeks to subjugate China, whose future can only be determined by the will of its people, he said.
There is nothing wrong with advocacy for renaming the nation's Olympic team to "Taiwan," Lai said, adding that proposal organizer Chi Cheng (紀政) competed under that name as an Olympian in 1960, 1964 and 1968.
However, while the government respects the advocates' views, it is bound by the Lausanne Agreement, in which Taiwan's Olympic committee consented to participate in Olympics under the name "Chinese Taipei," he said.
"A lot of people are understandably dissatisfied that Taiwan has to participate in the Olympics as 'Chinese Taipei' under the terms of the Lausanne Agreement, but this is the reality of the situation and we have to protect our right to have our athletes participate in the Olympics," he said.
Lai also said that the Cabinet is committed to President Tsai Ing-wen's (蔡英文) cross-strait policy directives.
He reiterated Tsai's official line that there would be no changes in goodwill, no changes in promises, no reversion to confrontation, no bowing to pressure and no compromising national sovereignty for expedient short-term interests that would jeopardize Taiwan's free and democratic way of life.
Comments will be moderated. Keep comments relevant to the article. Remarks containing abusive and obscene language, personal attacks of any kind or promotion will be removed and the user banned. Final decision will be at the discretion of the Taipei Times.