Kenting land crabs get new 'skywalk'
SPAWNING SEASON: The passageway in a culvert under Highway No. 26 has some gaps to prevent the crabs' enemy — the yellow crazy ant — from using it
To prevent land crabs in Pingtung County's Kenting (墾丁) from being run over by cars as they migrate to the coast to spawn, an academic has created a "skywalk" to allow the crabs to safely cross the road.
As land crabs are entering their spawning season from this month to November, National Tsing Hua University Department of Life Sciences professor Tseng Ching-hsien (曾晴賢) has designed a skywalk exclusively for them — a wooden passageway in a culvert under a section of Highway No. 26 in the county.
The skywalk is installed higher than the level of water flowing through the culvert, Tseng said, adding there are some gaps in the structure to prevent the crabs' enemy — the yellow crazy ant — from using it.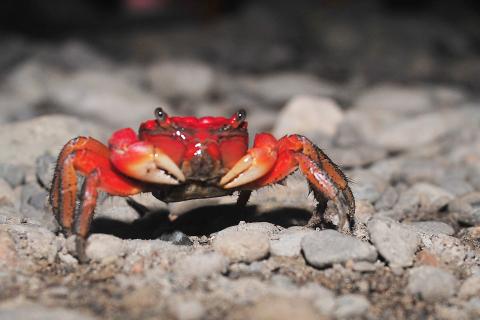 A land crab is pictured in Kenting, Pingtung County, on Sunday.
Photo: Tsai Tsung-hsien, Taipei Times
The ants last year were found to attack land crabs using a "great wall" roadside passageway made of green canvas and designed by Tseng.
An oil whose odor and slippery texture could prevent the ants from climbing the passageway would be applied to the surface of the canvas wall, the professor said.
Kenting National Park headquarters plans to extend the great wall this year.
The wall is to be set up on a 400m section of mountainside road in Shadao (砂島), a 200m section of mountainside road in Banana Bay (香蕉灣) and a 400m section of road in Manjhou Township's (滿州) Gangkou Village (港口), it said.
To prevent land crabs from being killed by cars, the headquarters and the Directorate-General of Highways said they would implement traffic control measures on a 2km section of Highway No. 26 from Banana Bay to Shaodao, a land crab hotspot.
The measures are to be implemented from 6:30pm to 8:30pm on July 27, 28 and 29; Aug. 25, 26 and 27; and Sept. 24, 25 and 26; as well as from 6pm to 8pm on Oct 23, 24 and 25, the headquarters said.
Kenting's Banana Bay is home to at least 26 species of land crab, making it the most diverse known habitat for the crabs in the world.
Additional reporting by CNA
Comments will be moderated. Keep comments relevant to the article. Remarks containing abusive and obscene language, personal attacks of any kind or promotion will be removed and the user banned. Final decision will be at the discretion of the Taipei Times.