Wind turbines are tourist 'must-see'
A wind farm comprised of 432 vertical-axis wind turbines on the coast of Changhua County's Fangyuan Township (芳苑) has become the county's latest tourist attraction.
The DS-3000 turbines, which has a two-blade system that guarantees high efficiency while enabling the system to activate even with very weak winds, were erected by a power company, which rented about 26,000 ping (85,950m2) of idle fish farms in the township's Sinbao Village (新寶), near the Wanggong Fishing Port (王功漁港).
The turbines look like egg beaters, and standing in the middle of the turbines feels like being on a different planet, a resident of the county's Lugang Township (鹿港), surnamed Hsu, said on Monday.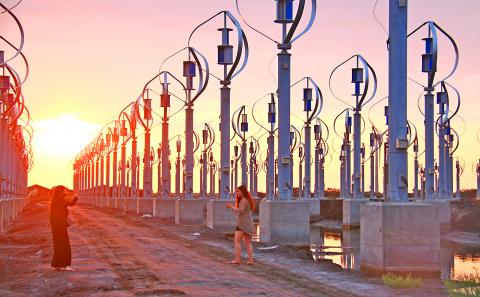 A woman poses for a friend in front of the more than 400 wind turbines in Changhua County's Fangyuan Township on Monday.
Photo: Chen Kuan-pei, Taipei Times
This is the county's first privately financed wind farm on aquaculture land, Taiwan Power Co's Changhua branch said.
The turbines have been registered with the Ministry of Economic Affairs, it added.
Each turbine generates up to 3 kilowatts of electricity, which could be sold for NT$8.97 per kilowatt-hour, it said.
The ministry's Bureau of Energy approved the equipment's registration in its initial review, but the wind farm is on aquaculture land, which cannot be freely used for other purposes, Changhua County Government Department of Economic Affairs Director Liu Yu-ping (劉玉平) said.
However, the Council of Agriculture is open to conditional land category changes, he said, adding that the department would review the case after it receives an application from the company.
Comments will be moderated. Keep comments relevant to the article. Remarks containing abusive and obscene language, personal attacks of any kind or promotion will be removed and the user banned. Final decision will be at the discretion of the Taipei Times.