INTERVIEW: Beijing concerned over Taipei 2020's reach
Hideki Nagayama, the director of the Taiwan 2020 Campaign Council and chairman of the Taiwan Research Forum, in an interview with 'Taipei Times' staff reporter Huang Tai-lin said that the campaign has made Beijing anxious due to its outreach and appeal to Japanese, and that China is concerned about the extent of the campaign's effects, while acknowledging pro-China and China-phobic tendencies in the Tokyo Metropolitan Assembly
Taipei Times (TT): From the initiative that you launched years ago that ended up allowing Taiwanese living in Japan to list "Taiwan" as their nationality instead of "China," to the campaign promoting Taiwan's participation in the Tokyo 2020 Olympics under the name "Taiwan" instead of "Chinese Taipei," why are you, a Japanese, so supportive of the efforts to rectify Taiwan's name in the international arena?
Hideki Nagayama:It first came to my attention in 2003 that Taiwan was listed as "China" on the alien registration cards issued by the Japanese Ministry of Justice. I found it to be unreasonable, but my demand for a correction was rejected by the ministry, despite the ministry being aware that Taiwan does not belong to China and that the Japanese government does not recognize Taiwan as a part of China.
It appeared to me that the ministry was afraid of incurring China's anger by making such a correction.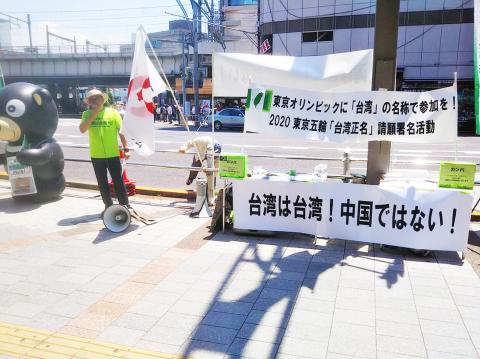 A member of the Tokyo-based Taiwan 2020 Campaign Council speaks through a loudspeaker at a petition stand at the Keisei Ueno station in Tokyo on June 2.
Photo courtesy of Taiwan 2020 Campaign Council director Hideki Nagayama
That was when I realized the severity of the pressure China exerts on other nations.
The Japanese government in 2012 replaced the alien registration cards with resident cards for foreigners who had been granted residency, and along with the change it allowed Republic of China passport holders living in Japan the option of choosing "Taiwan" as their nationality if they preferred.
As for the campaign pushing for Taiwan's national team to compete at the 2020 Tokyo Olympics under the name "Taiwan," I see it as Japan's own domestic matter.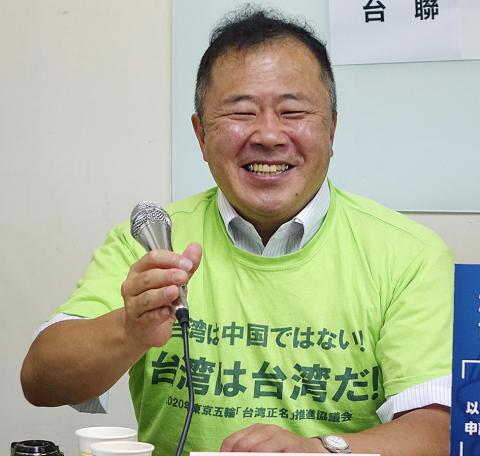 Taiwan 2020 Campaign Council director Hideki Nagayama smiles at an event in Taipei on Saturday.
Photo: George Tsorng, Taipei Times
As soon as the International Olympic Committee [IOC] announced that Tokyo had won the bid to host the 2020 Olympics, I thought that Taiwan's name should be rectified when it participates in the Games.
My friends and I launched an online petition for this, and people in Taiwan later joined in. The petition has so far collected more than 100,000 signatures.
However, we were unsure of the effectiveness of the online petition, so we changed methods and started collecting petition forms, which we will submit to the Tokyo Metropolitan Assembly once completed.
Now, back to the question of why do I, a Japanese, support Taiwan's name rectification movement:
First of all, I love Taiwan.
Second, Taiwanese have been so kind to Japan by rushing to our help in the wake of the March 11, 2011, earthquake and tsunami — now it is time for us to help Taiwan.
Third, there are still quite a number of people in Japan who are under the impression that Taiwan is a part of China. This misconception is very dangerous, as China tries to justify its attempts to annex Taiwan with its "one China" claim.
By taking the Taiwan 2020 Campaign to the streets of Tokyo we want people to know that Taiwan belongs to Taiwanese and it is not a part of China.
TT: Has the campaign encountered any threats or verbal attacks from Chinese passers-by on the street of Tokyo?
Nagayama: Yes. There are Japan-based Chinese or Chinese tourists who would approach us with their "sense of justice," saying: "Why are you Japanese meddling in China's affairs?"
We respond by asking: "Could you please tell me since when has Taiwan become a part of Chinese territory?" to which they have no answer.
When we first launched the petition, China's Taiwan Affairs Office issued a statement saying that the 2020 Tokyo Olympics should be held in accordance with IOC rules. It is obviously afraid, because members of the Japanese public as well as the international community are the main targets of our campaign, and China is afraid of the extent that our campaign might reach.
TT: How do Japanese react to the petition?
Nagayama: I find them to be very enthusiastic about it, relatively speaking, after taking in account that there are many kinds of petition activities going on in Japan.
Our petitions have been well-received; because their subject matter is Taiwan. Many people expressed interest and support after learning that our campaign is about Taiwan.
I am in charge of petitioning in Northern Tokyo and so far we have collected about 20,000 petitions; not so many, as we are understaffed.
There is no threshold for a petition to be submitted to the assembly as long as assembly members support our cause and make it an item of discussion, although of course we hope to collect as many signatures as possible.
There are quite a few assembly members who have either pro-China or China-phobic mindsets.
We hope that the assembly would pass a resolution in support of our cause, and that a demand would then be tabled with the IOC.
Our strength is limited, as we are, after all, just a civic group; so we need support from the organizers of the Games.
There is one other issue: Japanese mainstream media outlets seem reluctant to cover our campaign events. Why? Because they are also afraid of arousing China's anger.
TT: What role could the Chinese Taipei Olympic Committee play to support the campaign?
Nagayama: The campaign certainly needs support from Taiwan, including the government and Taiwan's Olympic committee.
However, they seem not to want to get involved, and it appears to me that they are afraid of "creating trouble."
That is why I now approach the campaign as Japan's own domestic issue. I hope that Taiwan's Olympic committee would not obstruct the campaign.
The Taiwanese government often says its stance on the name "Chinese Taipei" is "unsatisfactory, but acceptable." Simply put, it lacks courage.
TT: What is Japanese's general impression of Taiwan?
Nagayama:Prior to the 1990s, before Lee Teng-hui (李登輝) assumed presidency, Japanese were not that interested in Taiwan, because it was under Chiang Kai-shek's (蔣介石) rule [Editor's note: former president Chiang Ching-kuo (蔣經國) was in office before Lee] who claimed it to be "free China," whereas most Japanese knew of only one China, which was the People's Republic of China.
However, Japanese's perception changed after Lee took office and began Taiwan's democratization. Through Lee's speeches in Japanese — as well through older Taiwanese who had been robbed off their freedom of speech under the former Chinese Nationalist Party [KMT] authoritarian regime starting to speak their minds and voicing their ideas for an independent Taiwan — Japanese started to realize that Taiwan should belong to Taiwanese.
Young Japanese who are not interested in politics were touched by the help provided by Taiwanese in the aftermath of the earthquake and they developed an affinity toward Taiwan, having discovered that "we have such a nice brotherly nation next to Japan." There has since been a new wave of "Taiwan-lovers" among Japanese.
Comments will be moderated. Keep comments relevant to the article. Remarks containing abusive and obscene language, personal attacks of any kind or promotion will be removed and the user banned. Final decision will be at the discretion of the Taipei Times.