'Frozen ark' to preserve species
DNA BARCODE: Researchers are creating a database of genetic material, which could be used to easily identify the species and subspecies of smuggled animal products
Taiwanese researchers are contributing to a global initiative to identify, document and preserve the world's species and biodiversity by developing cryobanking, DNA barcoding and online database programs, officials from the Forestry Bureau and the Academia Sinica's Biodiversity Research Center told a news conference in Taipei on Thursday.
There are nearly 60,000 species in Taiwan, 8,000 of which are endemic, center research fellow Shao Kwang-tsao (邵廣昭) said.
To minimize the negative effects of biodiversity loss, the agencies have launched a liquid nitrogen cryopreservation program for wildlife genetic material, nicknamed the "frozen ark project," they said.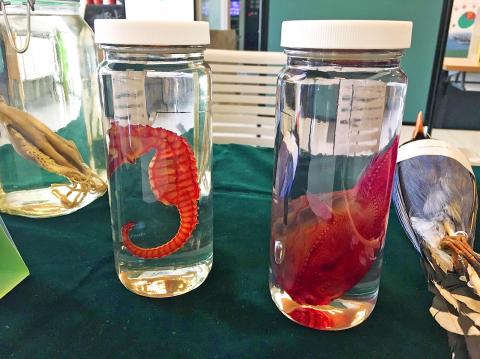 Specimens collected by the Academia Sinica's Biodiversity Research Center are displayed at the center in Taipei on Thursday.
Photo: Yang Mien-chieh, Taipei Times
Apart from permanently preserving biodiversity, the project could monitor changes in biodiversity and provide applications for the fields of biochemistry and biotechnology, which are expected to become highly competitive, they said.
The project might even be used to bring back extinct species, the agencies added.
The program is sponsored by the bureau and executed by the center, according to the program's Web site.
Apart from preserving genetic material, researchers are also establishing a DNA barcoding program known as the "Taiwan Barcode of Life" that would make it easier to identify species, they said.
Preserving the genetic material of the nation's native species is the first step toward contributing to the global DNA barcoding effort, the program's Web site says.
DNA barcoding could be used when smuggled animal products no longer retain their original appearance, center postdoctoral researcher Huang Shih-pin (黃世彬) said, adding that the animal's species and subspecies could be determined by "scanning" the DNA barcode.
The bureau and center have already collected 13,063 frozen wildlife specimens across 3,926 species for its cryobanking program and have processed the DNA "barcode" sequences of 3,796 samples across 1,983 species, they said.
They have also stored 1,058 dried fungal specimens across 1,177 fungal species and 1,166 strains of live fungi, and have processed the DNA barcode sequences of 1,687 fungal samples, they added.
The bureau and Academia Sinica in 2011 launched the Taiwan Encyclopedia of Life (TaiEOL) online database, modeled after the international Encyclopedia of Life (EOL) initiative, to document Taiwan's endemic species.
The TaiEOL in September 2012 signed a memorandum of understanding with the EOL and became an official global partner.
The TaiEOL's online database includes data on 21,642 species in Taiwan — about a third of the nation's known species, they said, adding that the database is available for free on the program's Web site.
The TaiEOL is also expected to launch a mobile app to give the public easier access.
Comments will be moderated. Keep comments relevant to the article. Remarks containing abusive and obscene language, personal attacks of any kind or promotion will be removed and the user banned. Final decision will be at the discretion of the Taipei Times.