NINE-IN-ONE ELECTIONS: Hou You-yi, Ko leading favorability polls, while Chen, Lim not running
CATCH-ALL NAME: Respondents in a poll were given four scenarios for the Taipei race, and Ko Wen-je came out on top in each of them, the Taiwan Brain Trust said
Former New Taipei City deputy mayor Hou You-yi (侯友宜) and Taipei Mayor Ko Wen-je (柯文哲) have the highest favorability ratings among major political figures and candidates running in the Nov. 24 nine-in-one elections, a poll released yesterday by the Taiwan Brain Trust showed.
The poll surveyed eligible voters in the six special municipalities to gauge the approval and favorability ratings of political figures and candidates.
As the municipalities' residents account for about 70 percent of the nation's population, the poll also gauged the approval ratings of President Tsai Ing-wen (蔡英文) and Premier William Lai (賴清德).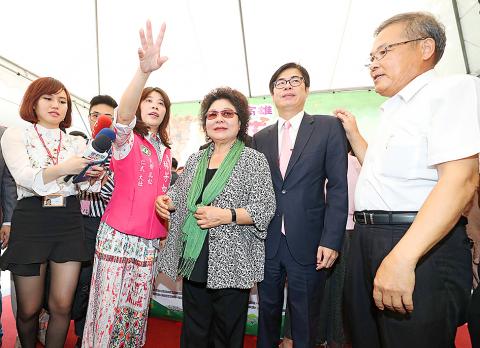 Presidential Office Secretary-General Chen Chu, center, and Democratic Progressive Party prospective Kaohsiung mayoral candidate Chen Chi-mai, second right, attend a promotional event for fruit grown in Kaohsiung at the Legislative Yuan in Taipei yesterday.
Photo: CNA
According to the poll, 56.5 percent of respondents disapproved of Tsai's performance, while 28.8 percent approved.
Lai had an approval rating of 39.3 percent and a disapproval rating of 39 percent, the survey found.
Respondents were given a list of 18 major political figures and mayoral candidates, and were asked to select who they favored. They were allowed to choose multiple names.
Hou was the only figure favored by more than half of respondents, with a favorability rating of 50.2 percent.
He was closely followed by Ko (48.5 percent), Lai (47.9 percent), Taichung Mayor Lin Chia-lung (林佳龍) (43.8 percent) and New Taipei City Mayor Eric Chu (朱立倫) (43.5 percent).
Tsai, who is the Democratic Progressive Party (DPP) chairperson, ranked eighth with a favorability rating of 35.6 percent, while Chinese Nationalist Part (KMT) Chairman Wu Den-yih (吳敦義) ranked 15th with a favorability rating of 18.6 percent.
Ko had the highest support rate in each of the four scenarios presented to the respondents for the Taipei mayoral election: running against KMT candidate Ting Shou-chung (丁守中) with no DPP candidate; running against Ting and DPP Legislator Pasuya Yao (姚文智); against Ting and Presidential Office Secretary-General Chen Chu (陳菊), and against Ting and Lai.
Even though some DPP politicians have criticized Ko, and his favorability rating has fallen to 43.3 percent in Taipei, he still received higher support rates — ranging from 44.3 to 53.4 percent — in the other five municipalities, Trend Survey and Research Co general manager Wu Shih-chang (吳世昌) said.
If Ko were to run for president in 2020 and received only 5 percent of the vote, it could still result in Tsai losing the election, he said.
People aged 20 to 39 view Ko most favorably, those 40 to 59 years old prefer Hou, and people older than 60 favor Lai, Wu said.
"Ko has a high support rate and can attract voters from the pan-blue and pan-green camps, as well as neutral voters and even New Power Party (NPP) supporters," Ketagalan Institute president Chin Heng-wei (金恆煒) said, adding that the DPP faces a challenge in party politics, as its supporters seem less passionate about and alienated from the party.
Taoyuan Mayor Cheng Wen-tsan (鄭文燦) has the highest approval rating among mayors at 77.5 percent, followed by Lin in Taichung (55.7 percent), who rose to No. 2 after Chen last month left her post as Kaohsiung mayor. Chen ranked No. 2 in the previous poll released in December last year.
The poll was conducted between Monday and Thursday last week through telephone interviews and a stratified proportional sampling of 4,891 adult residents of the six municipalities. It has a confidence level of 95 percent and a margin of error of 1.4 percent.
Chen meanwhile yesterday denied that she would run for Taipei mayor, after she was viewed by many DPP supporters as a strong candidate, adding that her duty is to assist the president in pushing forward reforms.
NPP Legislator Freddy Lim (林昶佐) yesterday said in a radio interview that he would also not run for Taipei mayor, because he does not want to split the pro-local and progressive vote, adding that he would not seek an alliance with Ko either.
Comments will be moderated. Keep comments relevant to the article. Remarks containing abusive and obscene language, personal attacks of any kind or promotion will be removed and the user banned. Final decision will be at the discretion of the Taipei Times.