Kung Sing lands bridge contract
FINALLY MOVING: The Directorate-General of Highways said that the single-tower suspension bridge could be open for traffic as soon as 2023
The Ministry of Transportation and Communications on Tuesday awarded Kung Sing Engineering Corp the contract to build the proposed Tamkang Bridge (淡江大橋), an asymmetric single-tower suspension bridge that would cross the Tamsui River mouth to connect New Taipei City's Tamsui (淡水) and Bali (八里) districts.
The proposed contract is awaiting the Executive Yuan's final revision and approval, the ministry's Directorate-General of Highways said.
Kung Sing was selected for having submitted the most advantageous tender according to the bid criterion, and the contractor plans to complete the bridge by 2024, or within five and a half years, it said.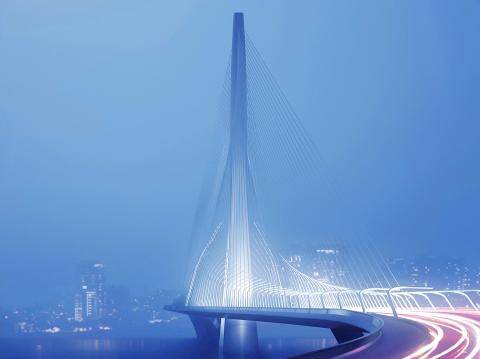 The proposed Tamkang Bridge spanning the Tamsui River in New Taipei City by renowned architect Zaha Hadid, who died in 2016, is pictured in a rendering. According to Zaha Hadid Architects' Web site, when completed, it would be the longest single-tower, cable-stayed bridge in the world.
Photo courtesy of the Directorate-General of Highways
The bridge's designer, the late Zaha Hadid, was an Iraqi-British architect and the first woman to receive the Pritzker Architecture Prize.
In the event of the Executive Yuan rejecting the contract, Kung Sing would still receive NT$2 million (US$68,106) from the government, the directorate said.
Multiple factors have complicated efforts to move forward with the project and the bidding process had to be reopened eight times after it was first opened in 2016, it said.
The bridge's construction calls for 28,000 tonnes of steel and the price of commodities — particularly for steel — rose sharply after the original contract was written, the directorate said.
In addition, the blueprint was changed from a single-tower suspension bridge to an asymmetric variant thereof, greatly increasing the technical challenge for builders, the directorate said.
Risk assessments and applications for construction permits are to be conducted after the Executive Yuan gives the go-ahead, it said.
The directorate said it is optimistic that the bridge would be completed on schedule and be open for traffic as soon as 2023.
The bridge is expected to shorten travel by 15km or 25 minutes and reduce the volume of traffic on Guandu Bridge and the nearby section of the provincial highway by 30 percent, the directorate said.
Comments will be moderated. Keep comments relevant to the article. Remarks containing abusive and obscene language, personal attacks of any kind or promotion will be removed and the user banned. Final decision will be at the discretion of the Taipei Times.