Former MAC head Chang takes the helm at the SEF
Former Mainland Affairs Council (MAC) minister Katharine Chang (張小月) yesterday took the helm of the semi-official Straits Exchange Foundation (SEF), saying that she hopes to meet with the chairman of China's Association for Relations Across the Taiwan Straits (ARATS).
Chang, a senior diplomat who led the council since President Tsai Ing-wen's (蔡英文) inauguration in May 2016, was elected by the foundation's board of directors and supervisors at a meeting yesterday afternoon, after being picked by the Tsai administration to succeed former SEF chairman Tien Hung-mao (田弘茂).
On Feb. 26, Chang was replaced at the council by National Taiwan University Graduate Institute of National Development professor Chen Ming-tong (陳明通) in a Cabinet reshuffle.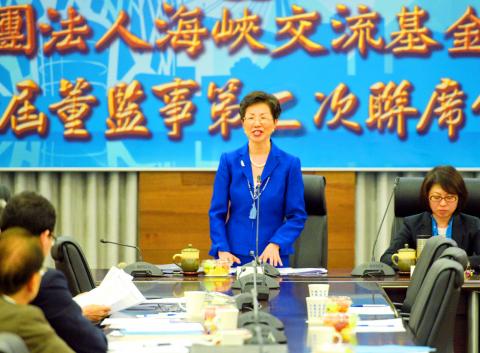 Former Mainland Affairs Council minister Katharine Chang speaks at a board meeting of the Straits Exchange Foundation yesterday, after she was elected to be the foundation's new chairwoman.
Photo: Chang Chia-ming, Taipei Times
"Exchanges between both sides of the Taiwan Strait should be based on mutual respect, as well as the principle of seeking common ground, while reserving our differences," Chang said when asked by the media whether she would inherit Tien's unfulfilled goal of meeting ARATS Chairman Chen Deming (陳德銘) in Kinmen.
Such a meeting could be held anywhere, as long as it is conducted in a fair, equal and respectful manner, she said.
The last meeting between leaders of the two semi-official organizations was in November 2015 in Taipei between Chen Deming and then-SEF chairman Lin Join-sane (林中森).
Communications between the two agencies have been cut since Tsai took office due to her administration's refusal to recognize Beijing's "one China" principle.
There is more China could do than simply granting Lee Ching-yu (李凈瑜), the wife of imprisoned Taiwanese human rights advocate Lee Ming-che (李明哲), a visit to her husband in prison, Chang said.
"How can a small nation like Taiwan tolerate people who have vastly different ideas, but a large country like China cannot stomach even one individual like Lee [Ming-che]?" Chang said, reiterating the government's oft-stated hope that Lee Ming-che will be released as soon as possible.
Following a number of failed attempts to fly to China to visit her husband in Chishan Prison in Hunan Province, Lee Ching-yu on Monday received a one-off document allowing her to enter China.
Lee Ming-che was on Nov. 28 last year sentenced to five years in prison and deprived of his political rights for a further two years by a Chinese court on charges of subverting state power.
The ruling came eight months after he was detained by Chinese authorities.
Although Chang's position descended from the head of the government's primary cross-strait policymaking agency to the leader of a foundation charged with carrying out policies, she said that what matters is not the level of her post, but the opportunity to contribute to furthering cross-strait ties.
"Although my jobs are in different locations, the work is all the same," she said.
Comments will be moderated. Keep comments relevant to the article. Remarks containing abusive and obscene language, personal attacks of any kind or promotion will be removed and the user banned. Final decision will be at the discretion of the Taipei Times.