Kuan faces an official complaint
Former presidential office adviser Wu Li-pei (吳澧培), political talk show host Dennis Peng (彭文正) and several National Taiwan University (NTU) academics and alumni have filed a complaint with the Taipei District Prosecutors' Office against NTU president-elect Kuan Chung-ming (管中閔) over allegations of forgery and other charges.
The complaint was filed by Wu and Peng's lawyers — Chan Chin-chien (詹晉鑒) and Chiu Yi-feng (邱一峰) — accompanied by Taiwan Solidarity Union member Hsiao Ya-tan (蕭亞譚) and other university alumni.
Despite being embroiled in controversy over plagiarism, Kuan was chosen by the NTU election committee in January to succeed Yang Pan-chyr (楊泮池) as university president.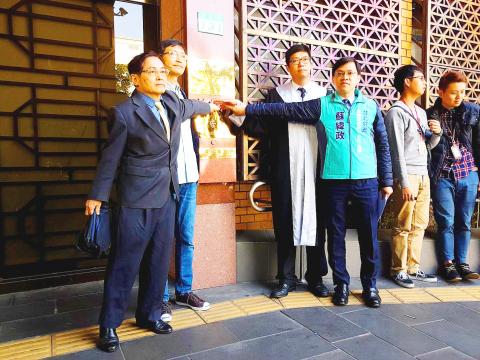 From left, lawyer Chiu Yi-feng, Taiwan Solidarity Union member Hsiao Ya-tan, lawyer Chan Chin-chien and Su Wei-cheng, who is running for the Democratic Progressive Party's nomination for a Taipei City Council seat, file a lawsuit against Kuan Chung-ming, president-elect of National Taiwan University, at the Taipei District Prosecutors' Office yesterday.
Photo: Hsieh Chun-lin, Taipei Times
However, during the selection process, Kuan did not disclose that he was an independent director at Taiwan Mobile Co.
Local media recently reported that Kuan had held lecturer and adjunct professor jobs at several universities in China, while serving as a minister in Taiwan.
The lawyers urged prosecutors to investigate the forgery and other charges, saying Kuan should have been disqualified from the university's election process as he did not disclose his role at Taiwan Mobile.
The group also asked prosecutors to investigate key members of the NTU election committee, including Kuo Tei-wei (郭大維), Huang Yun-ju (黃韻如) and Chen Wei-cho (陳維昭), accusing them of gaining undue benefit by electing Kuan to the position and deliberately overlooking his legal violations.
"We urge the NTU not to use 'university autonomy' to shield their real purpose of colluding to protect Kuan and seize the president's office. We ask the NTU to address these transgressions and punish those who engaged in fraud during the election process, and to investigate violations of the law by Kuan," Chan said.
Kuan was responsible for the NTU's involvement in these controversies, Hsiao said, adding that Kuan was holding the university hostage.
A number of NTU academics have also called to disqualify Kuan from being able to assume office, saying that since 2014 he has been listed as an adjunct professor at Xiamen University in China's Fujian Province, while serving as a minister from 2013 to 2015 under the KMT administration.
They said that Kuan was also a lecturer at three Chinese universities from 2005 to 2007, while he was a director at Academia Sinica's Institute of Economics from 2001 to 2007.
They accused Kuan of breaching provisions under the Classified National Security Information Protection Act (國家機密保護法), the Civil Servant Work Act (公務員服務法) and the Act Governing the Relations Between the Peoples of the Taiwan Area and the Mainland Area (兩岸人民關係條例).
Comments will be moderated. Keep comments relevant to the article. Remarks containing abusive and obscene language, personal attacks of any kind or promotion will be removed and the user banned. Final decision will be at the discretion of the Taipei Times.