Sacred ibis nest control ineffective: environmentalist
The number of nests built by the invasive African sacred ibis in Changhua's Hanbao Wetlands (漢寶濕地) has nearly tripled over the past two years, despite efforts to eradicate them, an environmentalist said.
Aerial photographs showed 800 nests in the wetlands, up from 300 two years ago, Taiwan Environmental Protection Union Changhua Division director-general Tsai Chia-yang (蔡嘉陽) said.
"The government needs a strong plan of action to deal with this," Tsai said.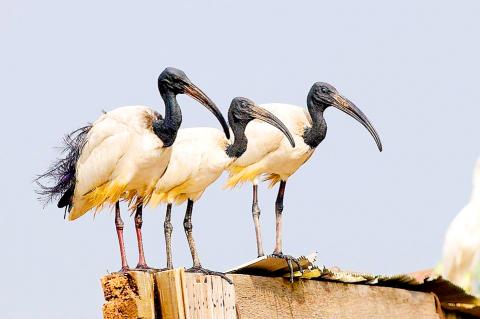 Three African sacred ibises perch on a wall in the Hanbao Wetlands in Changhua County's Fangyuan Township in an undated photograph.
Photo courtesy of the Chinese Wild Bird Federation
The bird symbolizes wisdom in Egyptian culture, but in Europe it has been labeled as one of the 100 worst invasive animal species.
The ibis entered the wild in Taiwan 34 years ago after an enclosure at a zoo in northern Taiwan broke open in a typhoon.
The Chinese Wild Bird Federation estimates that there are 2,500 to 3,000 of the birds in the wild, making it one of the most invasive animal species in the nation.
The birds move to different areas of Taiwan proper depending on the season, Tsai said, adding that they lay about three eggs every summer and spring.
The Hanbao Wetlands are particularly suitable for nesting, since the surrounding fish farms and fields provide an abundant source of food, he said.
Rubbing corn oil on the eggs to reduce the likelihood of hatching — a common technique for dealing with invasive birds — has proven ineffective, union vice secretary Lee I-hsin (李益鑫) said.
Removing young hatchlings from treetops has also been ineffective, as the birds are easily frightened and fly away, he said, adding that officials last year succeeded in removing only about 50 of the birds.
The US government last year began allowing US residents to hunt the species using bows, but this approach would likely not work in Taiwan, he said, adding that the use of firecrackers is also being considered.
The ibis has no natural predators in Taiwan and even though environmentalists have yet to find any evidence of it harming the local ecology, it does damage vegetation when building its nest, Lee said.
The bird also shares its habitat with local herons, meaning that it might eventually crowd them out, he added.
Comments will be moderated. Keep comments relevant to the article. Remarks containing abusive and obscene language, personal attacks of any kind or promotion will be removed and the user banned. Final decision will be at the discretion of the Taipei Times.