Third gender on passports possible: foreign ministry
RESPECTING DIVERSITY: An Executive Yuan committee said the government has decided to add a third gender option to household registration documents and IDs
There should be no technical obstacles to adding a third gender option to passports as long as the Ministry of the Interior approves such an option for household registration and national identification purposes, the Ministry of Foreign Affairs said yesterday.
The issuance of passports is conditional on the issuance of national identification cards, so if the interior ministry decides to include a third gender option, the foreign ministry would make the same change to passports, foreign ministry spokesman Andrew Lee (李憲章) said at a news conference.
Several countries have introduced an "X" — "unspecified" — gender option on passports, including Canada, Australia, New Zealand, Malta, Nepal and Denmark, according to the International Civil Aviation Organization (ICAO).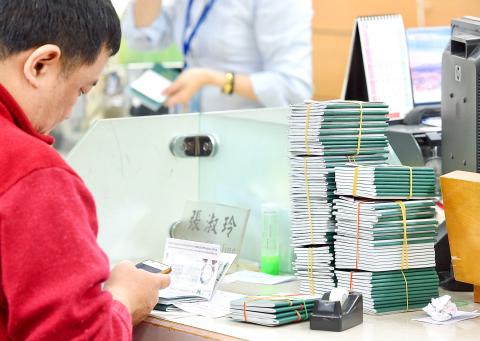 An officer at the Bureau of Consular Affairs issues passports in Taipei on Friday last week.
Photo: Peter Lo, Taipei Times
If the government were to make new policy on the matter, the Department of Household Registration would make changes as required, department Director Chang Wan-yi (張琬宜) said.
The Executive Yuan's Gender Equality Committee yesterday said it is working to introduce a third gender option on identity documents to protect the rights of transgender, intersex and other gender-diverse individuals.
The government has decided to add a third gender option, the committee said, adding that it is checking related laws, regulations and forms and would convene a cross-agency meeting to discuss specifics as soon as possible.
The policy involves several agencies and the committee predicts that multiple discussions would need to be held, it said.
In September last year, Minister Without Portfolio Lin Wan-I (林萬億) convened a meeting and instructed agencies to check laws, regulations and forms, the committee said.
Minister without Portfolio Lo Ping-cheng (羅秉成) is now responsible for supervising the preparatory work, it said.
After the examination, Lo is to convene a cross-agency meeting to discuss specifics and the short, medium and long-term goals of the policy, it added.
Further discussions are needed to decide on a timetable for the policy, the committee said.
Comments will be moderated. Keep comments relevant to the article. Remarks containing abusive and obscene language, personal attacks of any kind or promotion will be removed and the user banned. Final decision will be at the discretion of the Taipei Times.