Taichung power plant's coal-use permit extension too lenient, lawmakers say
Chinese Nationalist Party (KMT) lawmakers and environmentalists yesterday called on the Taichung City Government to revoke the coal-use permits it has awarded the Taichung Power Plant, which they said is the "dirtiest power plant in the world."
KMT legislators representing electoral districts in Taichung, andYunlin, Changhua and Nantou counties called a news conference at the Legislative Yuan in Taipei to address the permit extension issue.
The Taichung Environmental Protection Bureau on Nov. 13 rejected the power plant's application to extend the permits for nine of its 10 coal-fired generators and required the plant to provide additional documentation within 30 days.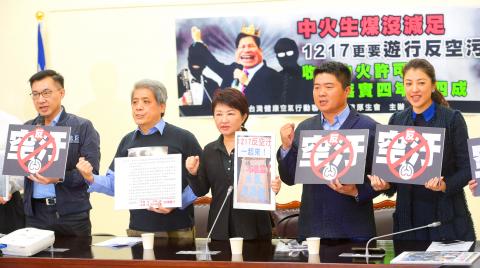 Chinese Nationalist Party (KMT) Legislator Johnny Chiang, left, Taiwan Healthy Air Action Alliance director Yeh Kuang-peng, second left, and KMT legislators Lu Hsiu-yen, center, Yan Kuan-heng, second right, and Hsu Shu-hua pose for a photo at a news conference in Taipei yesterday, where they demanded the reduction of coal used at the Taichung Power Plant.
Photo: Chang Chia-ming, Taipei Times
Bureau Director-General Pai Chih-jung (白智榮) on Wednesday said in a statement that the bureau had approved a two-year extension of the plant's permits, but cut its maximum coal usage by 5 million tonnes, or 24 percent, from the previous limit of 21 million tonnes.
"The permitted amount of coal consumption for Taichung Power Plant has been cut for the first time," Pai said, adding that the city's air quality has imrpoved due to the city government's efforts.
The power plant consumes about 18 million tonnes of coal per year, which means that the bureau only cut about 2 million off the plant's actual consumption, Taiwan Healthy Air Action Alliance director Yeh Kuang-peng (葉光芃) said at yesterday's news conference.
Taichung Mayor Lin Chia-lung (林佳龍) of the Democratic Progressive Party has proposed "jointly managing" regional affairs, but the bureau's review process did not involve residents in adjacent municipalities who are also affected by the plant's pollution, Yeh said.
The city government should stop mincing words to conceal the difference between "permitted" consumption and "actual" consumption, he added.
"The city government is playing a game of deception," KMT Legislator Johnny Chiang (江啟臣) said. "The city government should revoke its approval for the permit extension."
Local groups are to voice their demands for better air quality at several activities in front of Taichung City Hall from Monday to Friday next week, Yeh said.
People who want to take part in an anti-pollution march on Dec. 17 initiated by the alliance should dress in gray or black clothes to express their frustration with the nation's bad air quality, KMT Legislator Lu Hsiu-yen (盧秀燕) said.
The city government said in a statement that KMT lawmakers should not use the pollution issue for their own political benefit, especially if they plan on standing in next year's mayoral election — an apparent reference to Chiang and Lu, who have said that they will seek their party's nomination to for Taichung mayor.
Comments will be moderated. Keep comments relevant to the article. Remarks containing abusive and obscene language, personal attacks of any kind or promotion will be removed and the user banned. Final decision will be at the discretion of the Taipei Times.