Ko could prove as influential as Soong, analyst says
Taipei Mayor Ko Wen-je (柯文哲), if he runs for president in 2020, might have a similar magnitude of influence as People First Party Chairman James Soong (宋楚瑜), who nearly won the 2000 presidential election as an independent candidate, Taiwanese Public Opinion Foundation chairman You Ying-lung (游盈隆) said yesterday.
In a radio interview, You commented on Ko's rising popularity and his potential candidacy.
"Ko might well be the next James Soong judging from the structure of his support base," You said.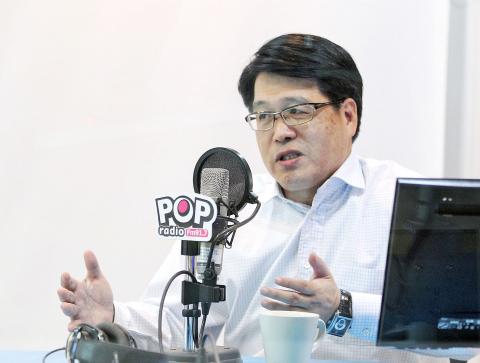 Taiwanese Public Opinion Foundation chairman You Ying-lung gestures during an interview in Taipei yesterday on Pop Radio.
Photo: CNA
Soong, who entered the 2000 race as an independent after losing the Chinese Nationalist Party's (KMT) presidential nomination to then-vice president Lien Chan (連戰), was then expelled from the KMT and the party accused him of embezzling millions of US dollars from it in what became known as the Chung Hsing Bills Finance scandal.
Soong lost the election to the Democratic Progressive Party's (DPP) candidate, Chen Shui-bian (陳水扁), by 312,805 votes, but beat Lien by more than 1.7 million votes.
Ko enjoys a degree of popularity similar to Soong's ahead of the 2000 race and is the nation's favorite politician, surpassing Premier William Lai (賴清德), You said.
A foundation opinion poll released on Sunday found that Ko scored 66.75 on the "feeling thermometer," which is gauged between zero and 100, compared with Lai's 63.44.
However, it remains to be seen if Ko can match Soong's political influence, You said.
Soong, as a former Taiwan Province governor, had the support of the provincial government and he had built up local political networks loyal to him through decades of effort, You said.
"A fast-rising star like Ko Wen-je might not have the same degree of local support James Soong had," You said.
Increasing tension between Ko and the DPP is evidence that it finds his popularity threatening, You said.
DPP lawmakers have signed a petition urging the party to nominate its own candidate for next year's Taipei mayoral election, which it did not do in the 2014 election, and DPP Legislator Cheng Pao-ching (鄭寶清) on Monday accused Ko of trying to curry favor with Beijing and turning voters against the DPP.
"It is the 'Godzilla' phenomenon. [Ko has become] a powerful monster that frightens all and provokes attack," You said.
For people outside the political sphere, Ko's straightforward manner makes him appear unpretentious and his criticism of the DPP administration's unpopular policies, such as the Forward-looking Infrastructure Development Program and pension reforms, have aligned him with the public, You said.
The recent Cabinet reshuffle has shown disappointed supporters that President Tsai Ing-wen (蔡英文) can make wise decisions at critical moments, You said, pointing to Sunday's poll that found her approval rating boosted by 16.6 percentage points to 46.4 percent.
Tsai approved of the unpopular workweek policy, but the new Cabinet must now amend it because employers and employees do not like it, You said.
Comments will be moderated. Keep comments relevant to the article. Remarks containing abusive and obscene language, personal attacks of any kind or promotion will be removed and the user banned. Final decision will be at the discretion of the Taipei Times.