Aboriginal boundary changes ruled out
PRIVATE LAND SPAT: Aboriginal rights advocates pounded on an outside fence throughout a news conference held by the Council of Indigenous Peoples minister
Council of Indigenous Peoples Minister Icyang Parod ruled out adjustments to controversial delineation guidelines for traditional Aboriginal areas, even as advocates contended that the Presidential Office's Indigenous Historical Justice and Transitional Justice Commission's views on the issue have been stifled.
"Traditional areas are complete, but our legal empowerment is only partial," he said, citing controversial language in the 21st Article of the Indigenous Peoples Basic Act (原住民族基本法).
The article addresses notification and consent rights for Aboriginal peoples in their traditional areas, stipulating that the rights apply to "Aboriginal land or villages and surrounding public land."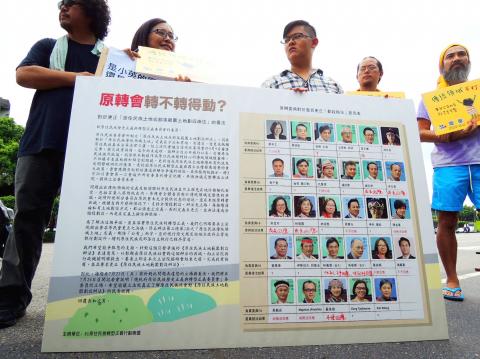 During a demonstration in Taipei yesterday, 81 Aboriginal Transitional Justice Alliance members urge the Presidential Office's Indigenous Historical Justice and Transitional Justice Commission to revise controversial demarcation guidelines.
Photo: Huang Pang-ping, Taipei Times
"The next step would be passing an Aboriginal land and sea area law based on Article 20 to address the issue of private land," he said, adding only that there was a need for "full discussion" when asked when a bill would be proposed.
He denied claims by New Power Party Legislator Kawlo Iyun Pacidal that the council's original draft of delineation guidelines had included private land, only to make revisions in response to pressure from the Cabinet.
"I respect those statements, but our version has always been the present one," he said.
He made his comments at a news conference in Taipei at the Mayor's Resident Art Salon held to announce planned activities or National Aboriginal Day next month, before being whisked out a compound side entrance to avoid Aboriginal protesters.
Protesters from the Aboriginal Transitional Justice Classroom pounded on the compound's fence throughout the event, which saw an outside performance stage abandoned in favor of an inside venue in an apparent bid to minimize protester disruption.
"We do not need to pretend we cannot hear the noise outside, but I would like to invite everyone to clap for all the effort the Council of Indigenous Peoples has put in over the past year," said Democratic Progressive Party (DPP) Legislator-at-large Kolas Yotaka — an Amis — who was the only one of the nation's seven Aboriginal legislators to attend the event.
"Back when we were on the streets 20 or 30 years ago, two or three thousand Aborigines could be easily mobilized — those were real Aboriginal movements, not just attempts to sell music, records and towels," she said, in apparent dig at the handful of protesters, all of whom have camped out for almost five months outside the Presidential Office Building in Taipei to raise awareness of their demands that private land be included within traditional area demarcation.
Aboriginal Transitional Justice Classroom advocates earlier yesterday joined with several members of the Taiwan Indigenous Peoples' Policies Association and other groups to protest along Ketagalan Boulevard.
Protesters criticized the council for allegedly ignoring the calls of Indigenous Historical Justice and Transitional Justice Commission members for revisions to its delineation guidelines.
"The commission in March last year passed a resolution calling for private land to be included, but the council has not been proactive about passing that information to Aborigines and the Legislative Yuan," Taiwan Indigenous Peoples' Policies Association president Oto Micyang said, adding that 12 of the commission's 29 members expressed support for including private land in respond to a survey, with an additional 15 declining to respond.
Icyang denied the protesters' allegations, stating that a full record of the meeting had been provided to the Legislative Yuan.
Based on official meeting minutes, only four commission members had openly expressed support for including private land, versus eight who expressed support for the council's current version, he said.
Comments will be moderated. Keep comments relevant to the article. Remarks containing abusive and obscene language, personal attacks of any kind or promotion will be removed and the user banned. Final decision will be at the discretion of the Taipei Times.