Hung to resign as KMT chief by end of the month
Chinese Nationalist Party (KMT) Chairwoman Hung Hsiu-chu (洪秀柱) yesterday said that she would resign at the end of the month.
Hung made the announcement during the weekly KMT Central Standing Committee meeting over which she presided, after thanking her colleagues for supporting her over the "toughest" year in the party's history, referring to the party's massive defeat in last year's presidential and legislative elections.
Hung said that she would step down as KMT chairwoman on June 30 — even though her term is set to expire on Aug. 20.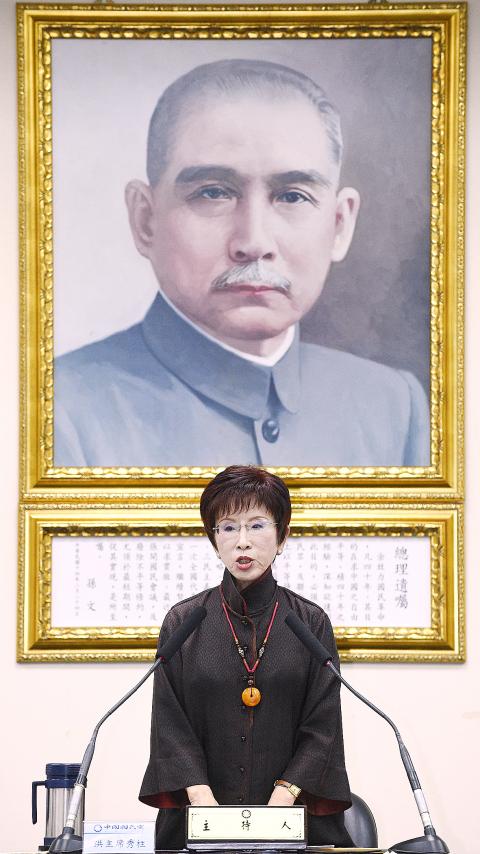 Speaking at the Chinese Nationalist Party's (KMT) Central Standing Committee meeting in Taipei, KMT Chairwoman Hung Hsiu-chu yesterday says she will step down by the end of this month.
Photo: Chen Chih-chu, Taipei Times
Hung is on leave until June 30 and yesterday appointed KMT Central Committee Deputy Chairman Lin Cheng-tse (林政則) as acting party chairman.
The announcement came after she and KMT chairman-elect Wu Den-yih (吳敦義) on Friday last week settled a weeks-long dispute and agreed to jointly nominate candidates for the KMT Central Committee elections.
She urged Wu to assume office as soon as possible so that he could make appointments to fill vacancies in KMT headquarters.
"We are very perplexed by the transition necessary for settling the KMT's affairs. I hope that chairman-elect Wu Den-yih would make suitable appointments and complete the transition soon," she said.
She said the staffing of the KMT Administration and Management Committee, which manages the KMT's assets, is particularly urgent, as the KMT is entangled in several lawsuits with the Ill-Gotten Party Assets Settlement Committee, and numerous issues about the KMT's assets need clarification.
She said that after last month's KMT chairperson election, she had heard rumors that some KMT members wanted her to step down earlier than scheduled — which she had been prepared to do with the proviso that the KMT's national congress be pushed forward from Aug. 20 to July 1, so that the transition of unfinished tasks could also be carried out sooner.
Hung said she hoped Wu could aspire to greater achievements than she did and lead the KMT to a brighter future.
Hung asked Lin to chair the meeting in her place and walked out, declining requests from some committee members to shake hands.
Comments will be moderated. Keep comments relevant to the article. Remarks containing abusive and obscene language, personal attacks of any kind or promotion will be removed and the user banned. Final decision will be at the discretion of the Taipei Times.